Guilford Election Board Approves New Early-Voting Plan
7:00pm Aug 08, 2016
At one of its rowdiest meetings in recent memory, the Guilford County Board of Elections approved an early voting plan Monday.
The plan allows for 25 early voting sites, Sunday voting, and an additional seven days of ballot access before the November election.
The sites include polling places at the University of North Carolina Greensboro and North Carolina A&T State University, among other locations. An earlier proposal suggested the board might cut a significant number of early voting locations, including those at the universities.
That's at least part of the reason so many protestors and activists showed up. After a federal court struck down North Carolina's 2013 law restricting voter access on the grounds that it was targeting African-Americans, county boards of election needed to figure out how to handle issues like early voting. Most of those who showed up to the meeting were looking to ensure that Guilford County's new rules gave ballot access to as many voters as possible.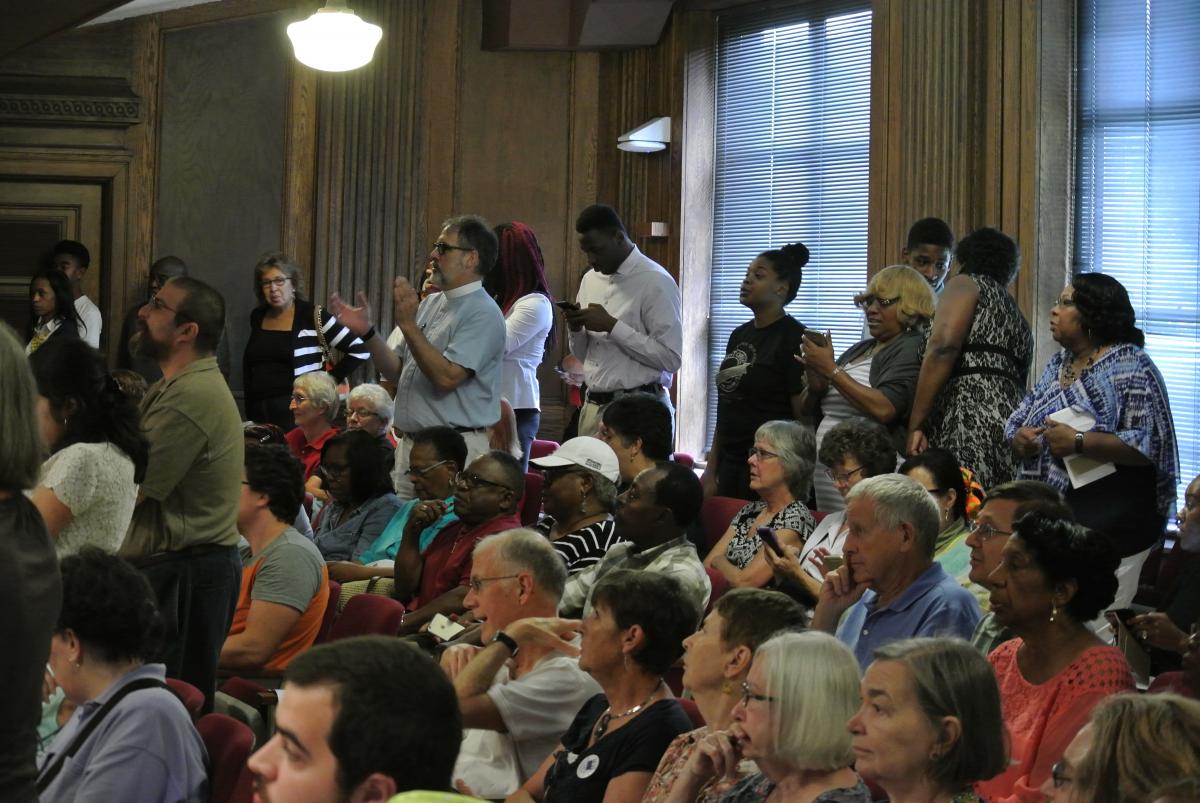 Board chair Kathryn Lindley had to fight through boos and chants throughout, and eventually called other board members together to take an inaudible vote. The plan that finally emerged – in a unanimous decision – is a compromise of sorts that she believes balances fairness with resources.
"I think everybody wants what we as the board want, which is significant access to the voting process for all members of Guilford County," Lindley said. "All citizens of Guilford County have the right to vote, and we hope they exercise that right."
Early voting in Guilford County will run in two phases. From Oct. 20th - 26th, voters will be able to cast ballots only at the Old Guilford County Courthouse. Beginning Oct. 27th, 24 additional sites will become available. Early voting ends Nov. 5, and Election Day is Nov. 8.
But not everyone is thrilled with the plan. North Carolina A&T political science professor Derick Smith says limiting site access to just one location in the first days of early voting can still reduce turnout.
"This is just another attempt to use that surgical precision with discriminatory intent on voters of color," Smith said.
In its opinion striking down North Carolina's 2013 voting laws, the 4th Circuit Court of Appeals cited data showing African-Americans disproportionately used the first seven days of early voting.
The board of elections noted Monday that there are now more weekend hours available for early ballot casting than there were in 2012, the year before the state's invalidated restrictions passed the legislature.