Guilford College Faculty Respond To Proposed Layoffs
4:21pm Nov 13, 2020

Guilford College in Greensboro is poised to cut half of its academic majors, and eliminate a third of its full-time faculty positions. Administrators cast blame for the layoffs on pandemic-related revenue losses. Meanwhile, professors and staff say they lack confidence in the administration, and they want to find ways to maintain the school's core values as a liberal arts institution. 
It's a peaceful stately campus — rolling grassy hills dotted with majestic oak trees, maples, and poplars between colonial classroom buildings, connected by neat red brick pathways — but right now it's a community in turmoil.
Tiffany Holland is adjunct faculty, and an alumna who fell in love with this place and its mission, and has since spent most of her adult life at the college.
"I'm deeply, deeply sad," she says. "I am heartbroken. And I am furious."
Holland says the proposed cuts and watching colleagues laid off after decades of service have been painful.  
"It's a liberal arts institution," says Holland. "Our students are taking liberal arts humanities, social sciences. Political science got discontinued as a department. Currently, political science has 48 majors." 
Interim president Carol Moore sees the cuts as inevitable. She arrived this summer following the hasty departure of former Guilford College President Jane Fernandes.
She says the board's mandate to rightsize the budget and the curriculum was clear. Declining student enrollment and millions of dollars in debt brought her face-to-face with what she calls a perfect storm.
"You know like most small privates across the country, finances is [sic] always a challenge," says Moore. "And this is one point in time where the COVID issues have sort of pushed those financial challenges to the limits."
She also blames an unwillingness on the part of previous administrations to cut low enrollment courses and majors. 
"And so basically we set out a process which is a pretty standard process in higher education," she says. "And we will be phasing out some of those programs that no longer meet the needs of students."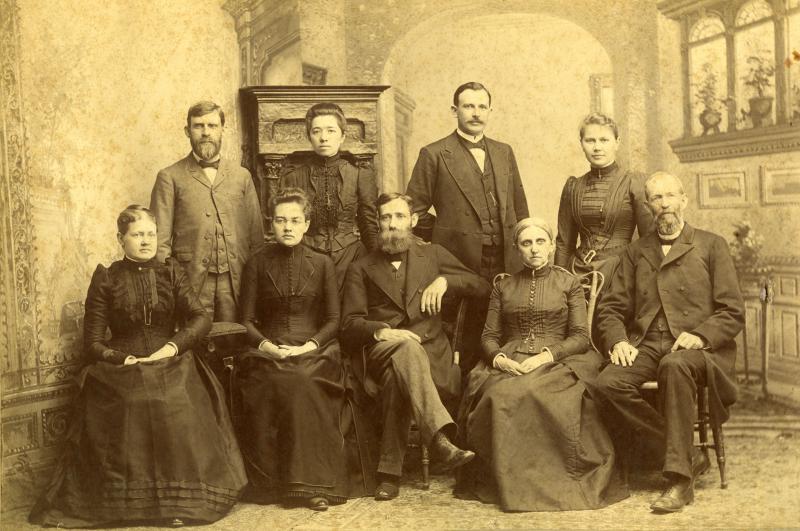 Economics, creative writing, and history are some of the 15 major programs to be cut along with five faculty and 16 tenured professors, like Geology Professor David Dobson. He recognizes the fiscal challenges ahead but questions the cure. 
"The college has been saying that it is doing an academic reorganization, but the scale at which it's been operating has been much greater than that typically happens at, so that's one problem," says Dobson.
Guilford's faculty handbook states that before the administration cuts programs, the college will make every reasonable effort to place the faculty members in another suitable position. Dobson says that hasn't happened, and he wants accountability, because there's not enough money to keep the college going.
"And the board has so far refused to make that public statement which means that the only way that they can make cuts to programs is by doing this sort of fake academic prioritization," he says. "It's supposed to be done for academic reasons, and the entire framing of it has been financial reasons."
He adds that any sort of reorganization is supposed to start and be approved by the faculty. But those committees said no.   
Mark Criley understands their pushback. He's a program officer with the American Association of University Professors (AAUP), a D.C. nonprofit. He calls the administration's proposals at Guilford a "significant cut." AAUP is currently investigating eight institutions including Guilford that are going through similar situations, many related to COVID-19.
"This is comparable to some of the cuts that we're seeing at this stage, but it's of a proportion that's, that's — it's not something you see every day," says Criley.
Declining enrollment at colleges isn't unusual these days. But 500 fewer students over the past six years, coupled with total liabilities rising by 170 percent is unusual, according to Scott Carlson. He's a senior writer for The Chronicle of Higher Education.
Carlson says more transparency could lead to new solutions, greater alumni support, and other partnerships.
"And they do need to right the academic side of the house with the finances," says Carlson. "And what's happened at a lot of the colleges is that they haven't looked at what their majors cost them and what kind of revenue those majors are bringing in." 
Faculty and staff have offered several alternatives — progressive pay cuts, voluntary furloughs — but few if any of their suggestions have been taken up. 
Many Guilford College alumni refuse to accept the massive layoffs. Alumna and educator Emily Martin is among them.
She helps lead the Save Guilford group of volunteers raising funds and awareness for the school by targeting alumni. Martin says Guilford changed her life, and as a high school counselor, she wants to continue recommending this school to others because she knows the impact it can make, especially now.
"Racial justice, and community and environmental stewardship, these are huge topics and areas for students to discover and to discuss," says Martin. "And to really lead the discussion. And so, schools like Guilford are just so invaluable in this current climate. It just feels irresponsible to let something like that go."
Faculty appeals are due November 20. The final decision by the board of trustees is currently scheduled for February 2021.