Salsa music and laughter fill Winston-Salem Fire Department Fire Station 1 on a recent February afternoon. The team sits around a table that's set between two fire trucks in the garage. They joke with one another, trade recipes, and enjoy the moment together. They say they're family and this is how they balance the gravity of their responsibility.
For father and son Gustavo and Andres Herrera, their ties run even deeper. They were among the Winston-Salem firefighters who battled the Winston Weaver fertilizer plant fire that broke out on January 31. It lasted for days, displacing residents within the one-mile evacuation zone and putting emergency responders in harm's way.
As soon as Gustavo Herrera walks into the station, everyone welcomes him. 
The team calls Gustavo "Papi," a term of endearment because of the respect they all have for him. Andres, who works at Fire Station 1, draws his father in for a hug. 
"One of the things that I admire from this fire department is with all the problems they have, the complaints you have, they always go one extra mile, always. But they love what they do, so that's part of the job," says Gustavo Herrera.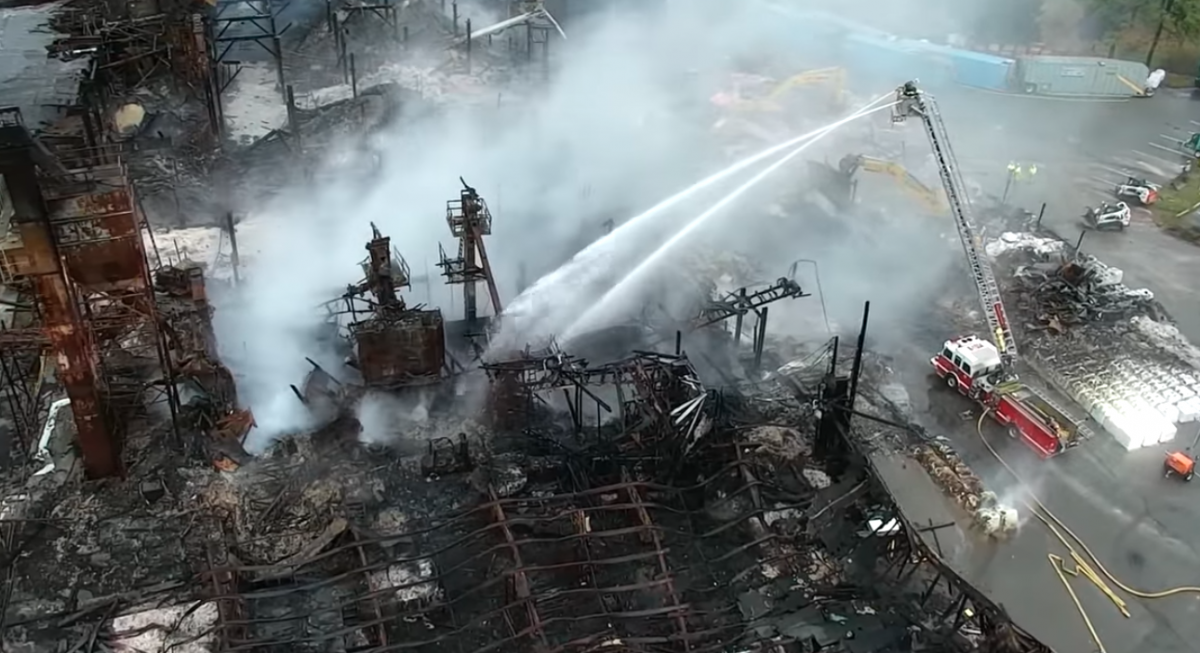 Firefighters work on the blaze at the Winston Weaver fertilizer plant that began on January 31, 2022. Photo courtesy of the City of Winston-Salem
The father and son migrated to the U.S. from Colombia 22 years ago. Gustavo worked as a firefighter back in his country, and then when he decided to move, he had to start the process to become a firefighter all over again. 
"It was a little difficult," says Gustavo Herrera. "We created the fire department in the city where we lived and when we came here, we learned a lot of techniques and styles from the United States. And that part was easy. But to adapt the system to the ideals in the area it was a little tough, but we got it." 
Gustavo is now captain of Engine 1 and Hazmat 1. His son Andres followed in his footsteps and decided to become a firefighter too. 
They work for different branches in the WSFD. But Gustavo says Andres is always on his mind. 
"To me is a little stressful sometimes ... because we know the risk," says Gustavo Herrera. "I mean, as soon you jump in that truck and the lights are on and the sirens are on, they're exposed. Something can happen. So I'm glad we're not working together because it would be worse."
The night the Weaver fire broke out, both father and son were off. After Andres got the notification on his phone, he immediately called his dad to talk about the fire since Gustavo is familiar with dangerous chemicals and has dealt with fires like this before.  
"So we talked about it. Just talking to him, like, 'it caught on fire I can't believe it.' We've been in there previously for different calls, and then that night I came in to fill a truck. I guess they hired for overtime and we picked up a shift," says Andres Herrera. 
Gustavo got there the next morning since hazmat had to assess the situation and the chemicals that caught fire. 
"They evacuated the fire, so from the hazmat point of view, we have to work with other agencies and start getting the drones ... and we started figuring out 'this is getting serious and serious' with the time that's passing and passing," says Gustavo Herrera. "Well, we were lucky."
The scariest part for them both was the potential of an explosion. The second day they had to work on evacuation, assessing the situation, and also providing information to people who didn't want to leave their homes, even though they knew the danger.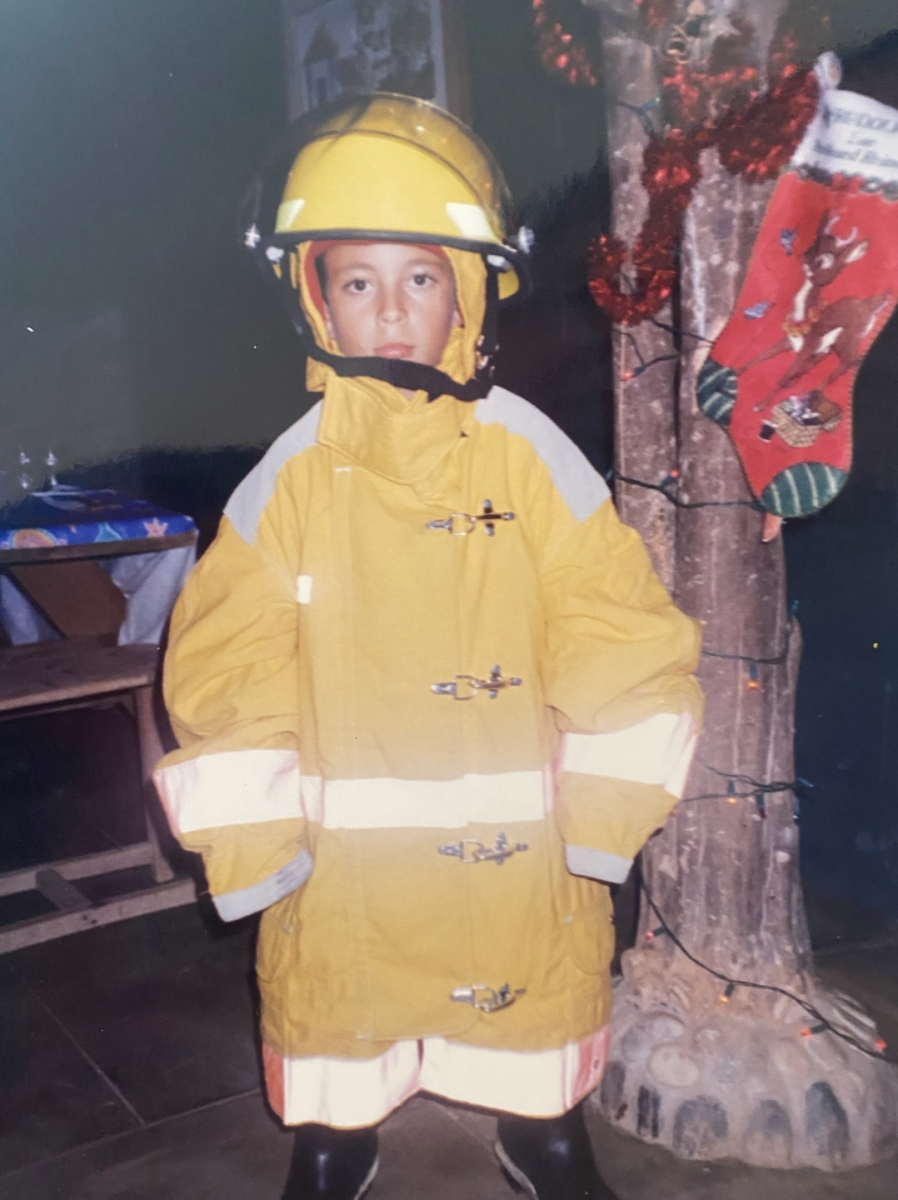 "The potential maybe of what could happen," says Andres Herrera. "But we try not to worry about that stuff because we have to be there to help."  
"That moment was really stressful," Gustavo Herrera adds. "When they cleared the area, even in that moment they knew it was high risk. And the next day when we saw the drones, the pictures ... oh my god that second day was very stressful. We were expecting anything."
Gustavo not only had to deal with the chemical evaluation, but he also had to inform the Spanish-speaking community through interviews and media requests. He says evacuating everyone was overwhelming for both the police and the firefighters, but the language barrier, the lack of trust in governmental entities, and the fear of uncertainty made the job extremely difficult. 
"One engine covered 13 miles alone telling people 'Hey you guys need to evacuate,' and this was just them telling people you guys need to evacuate. The police did that as well. The police was having overtime for people to come in. But it's hard because people don't know, and it's hard to get that reach to everybody, people don't want to leave their houses," Andres Herrera says.  
Gustavo and Andres Herrera are two of the few Latino firefighters in the city. In the department's latest cultural assessment, it reported that 3% of the force is made up of Hispanic people, even though currently the group makes up 15% of the city's population. That report was published after the department came under scrutiny for the lack of diversity and racist incidents before.
"We came from countries where we don't believe too much about what happens outside, but this is one of the big factors with the Hispanic community and we have to educate them, and that has been like that from a long time ago," says Gustavo Herrera.
"It's gotten a lot better," Andres Herrera says. "Back then it was not like this. There was no outreach whatsoever. We're starting to see more people speak Spanish, which is good."
Both son and father agree that language plays a huge part in building trust.
"When you speak Spanish you have a connection to that person. I always feel more comfortable speaking to someone in Spanish. We can relate, there's a connection. It's more meaningful," Andres Herrera says.
Gustavo Herrera adds that it's "a two-way release. You can see your crew, so you see that level of stress coming down."
Both Andres and Gustavo say that things are changing in the department and that usually every new incident shows the cracks that need to be mended — especially the Winston Weaver plant fire. 
Andres Herrera says that it definitely was "a lot of learning. We've learned a lot from it — about the equipment they need, the equipment we need. I mean I'm sure they learned a lot about how to outreach people, how to communicate with the community better."
For them, this was a difficult situation, but they're trained to deal with harsh circumstances.
"If that happened tomorrow in another place, we'll just do it the same. It's the job," says Gustavo Herrera.
"It's just part of the job," adds Andres Herrera. "You just do it."

This story was produced by a partnership between WFDD and La Noticia. You can read this story in Spanish at La Noticia.
Eileen Rodriguez is a reporter for both WFDD and La Noticia through Report for America, where she covers COVID-19's impact in the Latino Communities.
Periodista de La Noticia y 88.5 WFDD, Eileen Rodríguez reporta el impacto de COVID-19 en la comunidad Latina en Carolina del Norte. Rodríguez es miembro del cuerpo de periodistas de Report for America 2021-2022
Support quality journalism, like the story above, with your gift right now.