Earlier this year, a tragic kitchen fire at the Summit-Cone apartments in Greensboro killed five young refugee children. In a five-part series, "Unsafe Haven," we examine the lives of refugees who call the Gate City home.
We reported previously on the property management company that oversees those apartments, Arco Realty, and its history of code violations. In this installment, we survey the work of local agencies tasked with resettling these new North Carolinians, and the challenges they face in search of safe, affordable housing.
"Lack Of Federal Support"
Ali Al-Khasrachi, his wife Marwa, and their three sons are Iraqi refugees living in Greensboro. Al-Khasrachi ran a design shop in Baghdad, but after surviving two assassination attempts, he and his family were forced to flee. They arrived at Piedmont Triad International Airport last year with limited English, and even less knowledge of their surroundings.
Their story is like so many refugees who come here.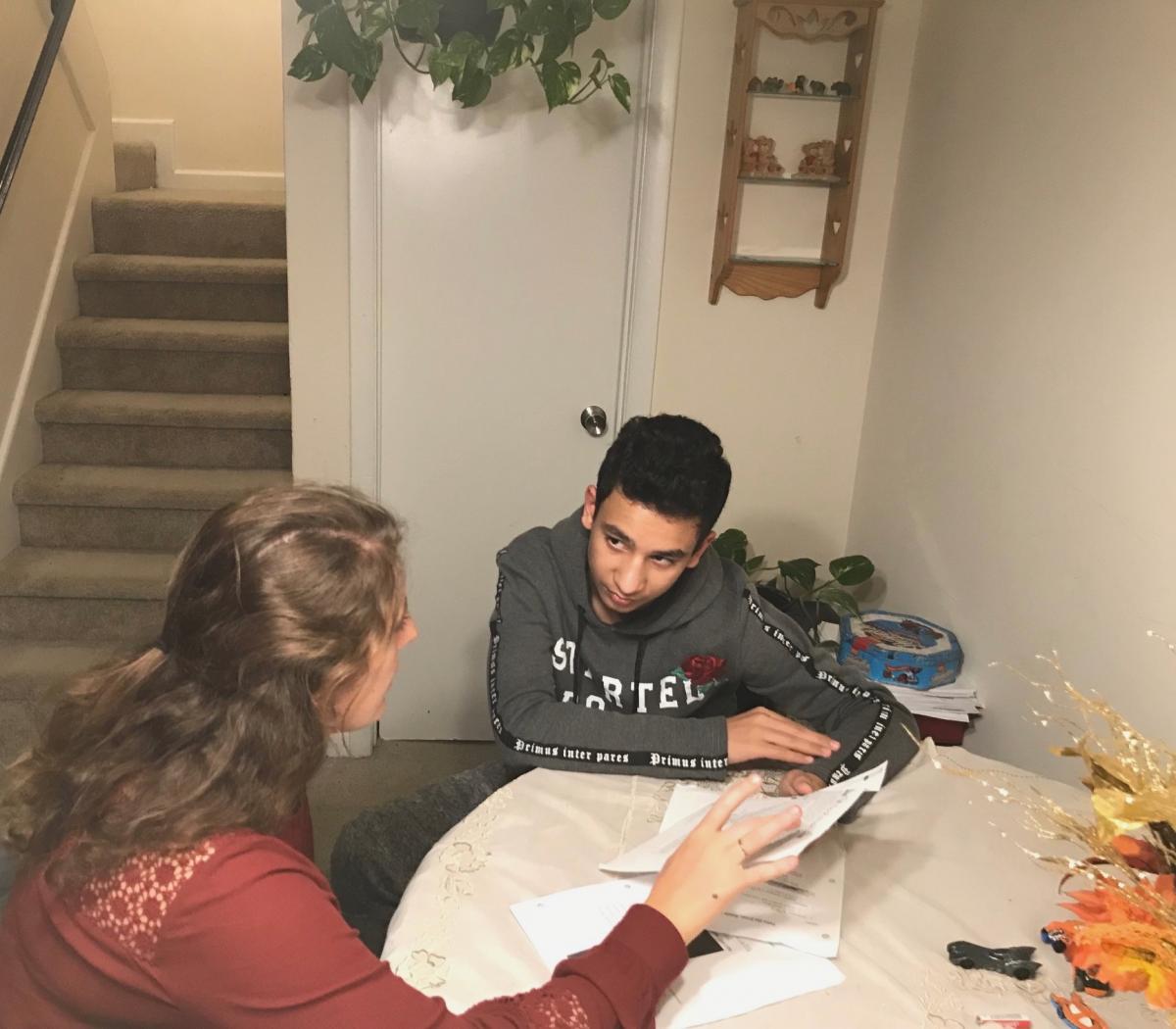 Thankfully, they have support. Refugee resettlement agencies and their partners are with these families from day one –organizations like Every Campus A Refuge (ECAR).
Guilford College undergraduate Katie Claggett tutors 7th-grader Abdullah Al-Khasrachi once a week.
"I think the more we can connect with people who come from other places who might speak other languages, who might look different from you is most important," says Claggett. "And it's not only enriching to your life, it's enriching to the people that you can interact with, and it ultimately just makes communities stronger."
Non-profit organizations, including ECAR and others like it, greet refugees at the airport, and provide temporary housing, as well as community, material, and sociocultural support, like driving them to appointments and arranging for vaccinations. 
Many refugees arrive in the U.S. penniless, unable to speak English, and heavily reliant on these groups to help them navigate their new surroundings. ECAR founder Diya Abdo says that Greensboro has been welcoming refugees for forty years. During that time, she says it's developed a strong infrastructure for supporting newcomers, especially given the city's small size. But she adds support at the national level is a different story.
"It allows for a very short period of time for adjustment—three months," says Abdo. "It provides very limited financial support for people to gain self-sufficiency. And so, I think we need to look at the refugee resettlement program in general and the kinds of support that refugees are getting from the federal government."
"One Challenge Looms Over The Rest"
To make up for the lack in federal assistance, resettlement agencies have to get creative, says North Carolina African Services Coalition Executive Director Million Mekonnen.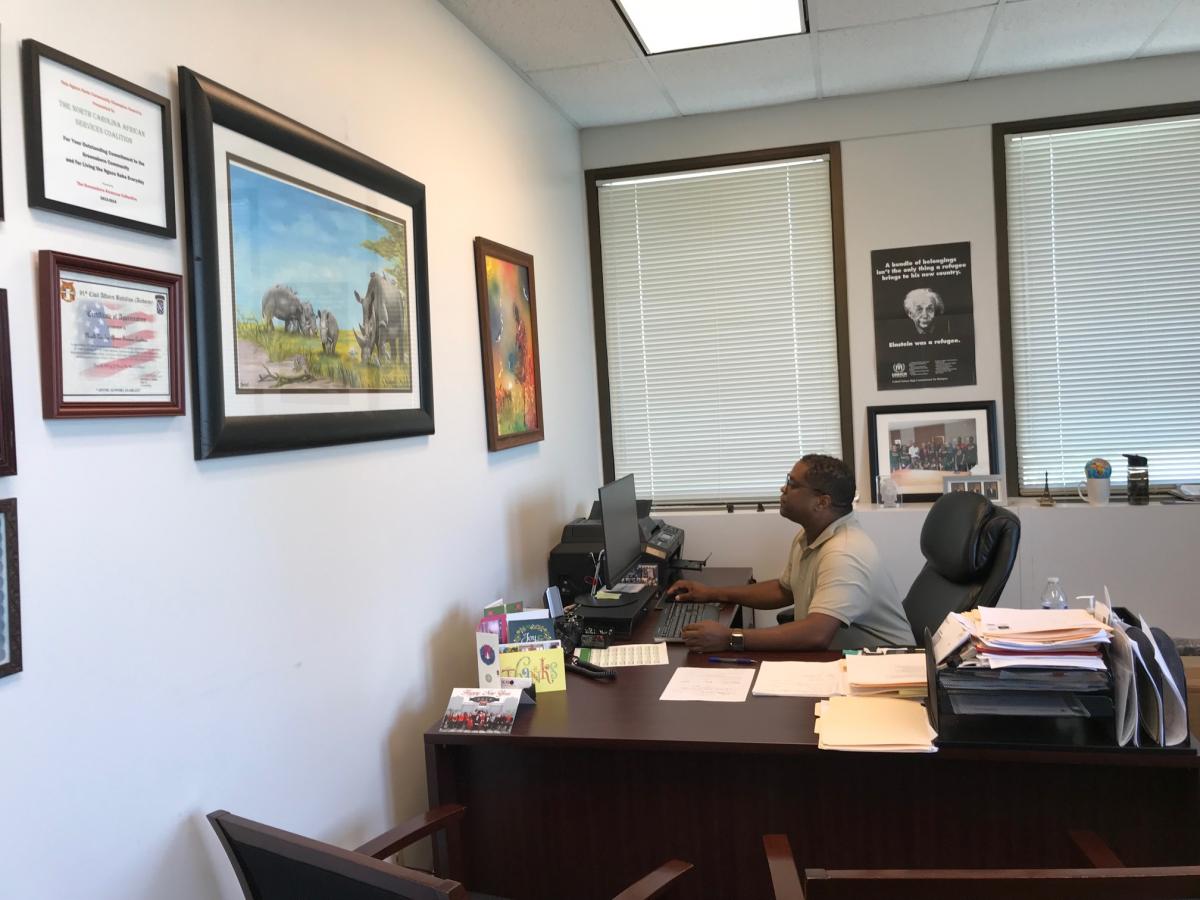 "We always say that resettlement is not a one-agency job," says Mekonnen. "We have to bring everybody together so that this is a private/public partnership in the first place. And so, that is really helping people in the long term to assimilate into the community so they can be self-sufficient and independent."
But even after leveraging community-wide support systems: local faith organizations, colleges, and advocates, one challenge looms over the rest: housing.  
"It's very tough," he says. "I don't know how you can put safe and affordable together. Resources are very limited and we don't find that many landlords that make an exception."
Even when landlords are willing to meet a refugee's bottom line, there may be trade-offs.  
"No Red Flags"
This was the case at the Summit-Cone apartments—the site of the deadly fire. Roughly two years ago that complex, run by Arco Realty, was condemned, later renovated, and eventually brought back up to code.
Holly Sienkiewicz is the research director for UNC-Greensboro's Center for New North Carolinians. There they provide additional support to refugees once resettlement services expire. She says Arco needed to fill units and saw an opportunity.
"They contacted resettlement agencies offering a discount for refugees to be placed there," says Sienkiewicz. "They essentially waved the security deposits, and they gave them one month's rent free which is essentially saving each client $1,000 dollars. That's a pretty big deal when refugees come with such limited cash assistance available."
Sienkiewicz says agency walk-throughs revealed no red flags and leases were signed.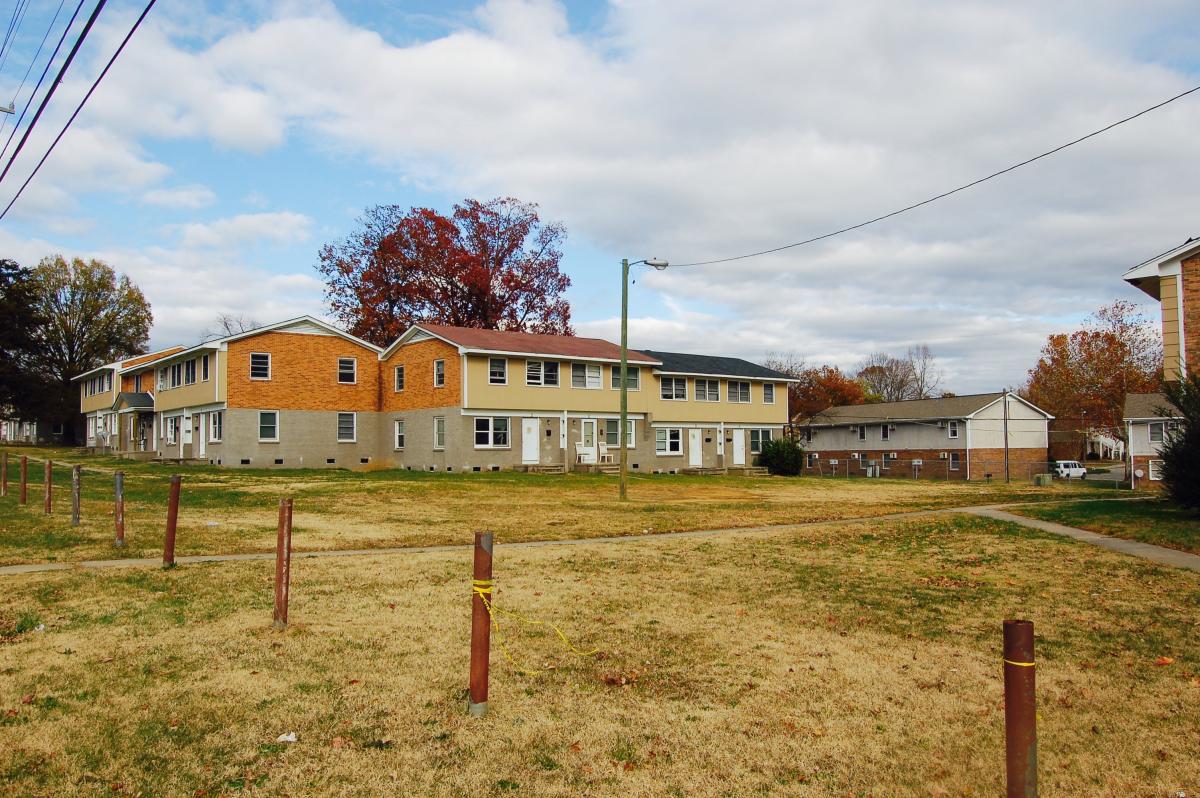 But following the fire, inspectors were brought back in to Summit-Cone where hundreds of code violations were discovered—rodent infestations, leaking pipes, faulty wiring—and the complex was once again condemned.
"System Of Holes"
Andrew Young was a UNCG community research fellow at the Center for New North Carolinians for several years. He says what's lacking among the various resettlement agencies is not goodwill, but something more basic.
"At a public meeting before city council members and agencies, one of the refugees questioned the system," says Young. "He stood up and quietly said, 'I only have one question and that is: before refugees are settled here, is there any coordination?' And the room went quiet."
A quick snapshot of what these agencies are up against spells out the challenges: the immigration debate, funding cuts, and recently lowered caps on the number of refugees allowed into the country, which tightens their purse strings even more.
Young says local government officials need to develop a bigger game plan, beginning with affordable housing.
"It seems to be more of a system of holes rather than real structure," he says. "I mean if you imagine Swiss cheese, and it's a lot of holes. Well, I believe we have a system which is mostly holes."
"Landlord Fair"
But there are efforts underway, and now there's a renewed sense of urgency. 
A large, brightly lit lobby is filled with African refugees, many in colorful native garb, and some accompanied by interpreters. Sitting behind folding tables are representatives from Legal Aid, Guilford County Schools, Community Care Network, and others. But most are here to find a place to live. Greensboro Housing Coalition's Brett Byerly, along with Guilford College Bonner Scholars and others helped organize this event: the city's first landlord fair.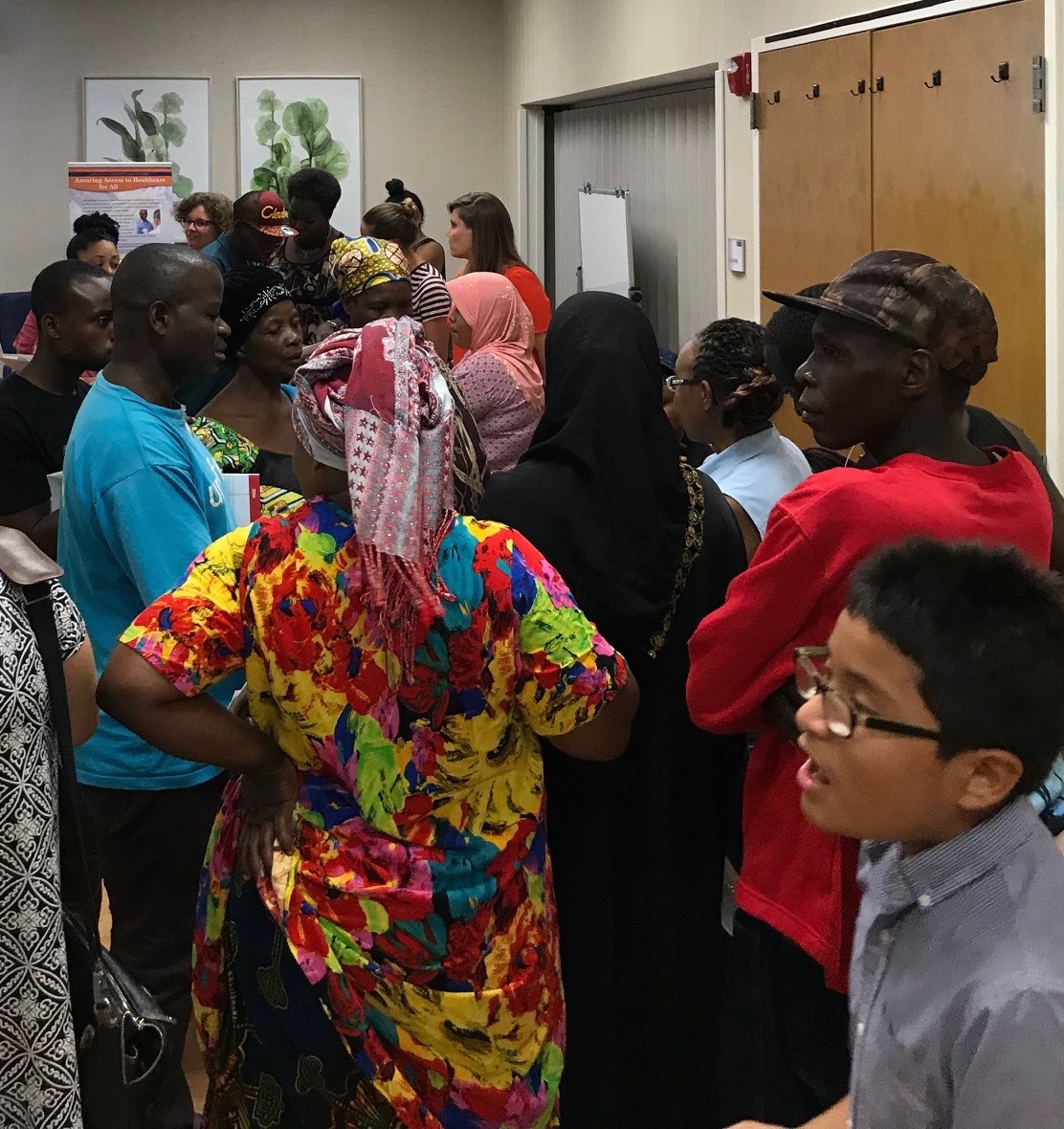 Byerly says the need for affordable housing has never been greater. After the Summit-Cone apartments across the street were condemned, these families were given just four weeks to relocate.
"We're saying to people, 'We will give your landlord $1,500 for your first month's rent and your security deposit if you can just find a place to move into,'" says Byerly. "And they're not coming back to us because they can't find a place to move into. That really tells you a piece of the story. There's money sitting on the table that they're not able to use because the affordable housing stock is just not there."
By affordable, he means 3-bedroom units for about $800 a month or less. For the Al-Khasrachi family—just three young boys and their parents—finding this small apartment in Greensboro was challenging, but doable, says Diya Abdo.
"But I've noticed that the folks that we've hosted on our campus from the DRC or Uganda tend to have larger families, multigenerational families," says Abdo. "And affordable housing for larger families can be very, very hard to find. So, finding a house, or an apartment for nine members, ten members, eleven members, is incredibly difficult."
Difficult, but critical for the well-being of North Carolina's newest neighbors, and for their ability to thrive while they work to make this city a home.
Support quality journalism, like the story above, with your gift right now.