Changing The Way We Wait At Winston-Salem's Bus Stops (The Sequel)
8:12am May 23, 2019
On today's Carolina Curious, WFDD listener Vicki Schwartz asks:
"Why is there such a lack of bus benches and shelters at various bus stops in the city of Winston-Salem?"
For Schwartz, it's personal. 
"I grew up in the 50s when bus transportation was a very significant means of transportation," she says. "I rode the bus with my grandmother and my mother, and it was very convenient. It was very efficient, and something that everybody did."
"My concern is that nowadays it seems that it is the poor mainly using the bus transportation," adds Schwartz. "And to see them standing in the bitter cold, drenching rains, and the high heat that we experience here in the city, just makes me feel — when they don't have any place to sit down or rest while they're waiting on the bus — that it is the bus company's responsibility to think about their ridership."  
If Schwartz's Carolina Curious query sounds familiar to you, it's for good reason. We actually tackled this very question three years ago.
Back then, just over 5 percent of the city's roughly 800 bus stops came equipped with shelters. At the time, a comprehensive change of Winston-Salem Transit Authority's bus route system was underway with the promise of more stops and shelters. 
(Still) A Work In Progress
There's a new leader of the Winston-Salem Transit Authority, or WSTA. In January, Donna Woodson replaced Art Barnes as General Manager. She has 20 years of transportation experience, and she says she is well aware that bus shelters continue to be a hot topic in Winston-Salem. 
"We have 1,525 bus stops currently," says Woodson. "As far as shelters, we have about 84 shelters. And that's a work in progress because we do have a list of proposed shelters to come up and definitely, we want to increase that number."
That's about 5 percent of stops – virtually the same percentage as it was when WFDD first investigated this issue for Carolina Curious. Woodson says she'd love more, but it comes with a hefty price tag. 
"Basically, for a large shelter it's about $6,000 and then for a smaller shelter $5,000," she says.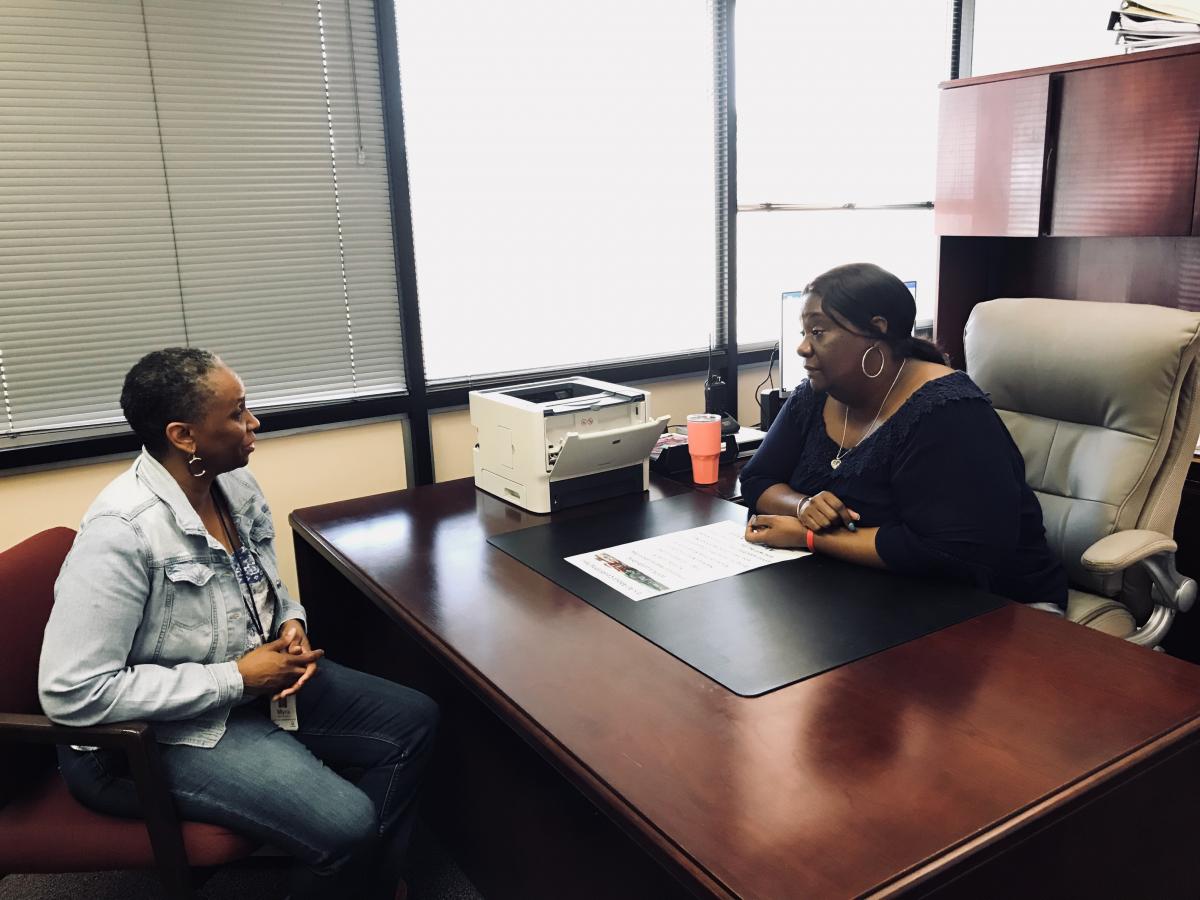 Construction Challenges
Woodson points out that new bus stops with shelters are in fact already in progress along sections of Patterson Avenue for example. And projects like these take a lot of time and energy, according to Special Projects Coordinator Myra Stafford. She's with the Winston-Salem Department of Transportation. 
"First of all, we have to make sure that we have the proper right of way," says Stafford.
That means dealing with property owners — government, private and commercial — and getting them to allow access to their land. It can be a tough sell, particularly for private owners who complain about the noise, trash, and graffiti that comes along with a bus stop in their area. Stafford says there are construction challenges to overcome as well.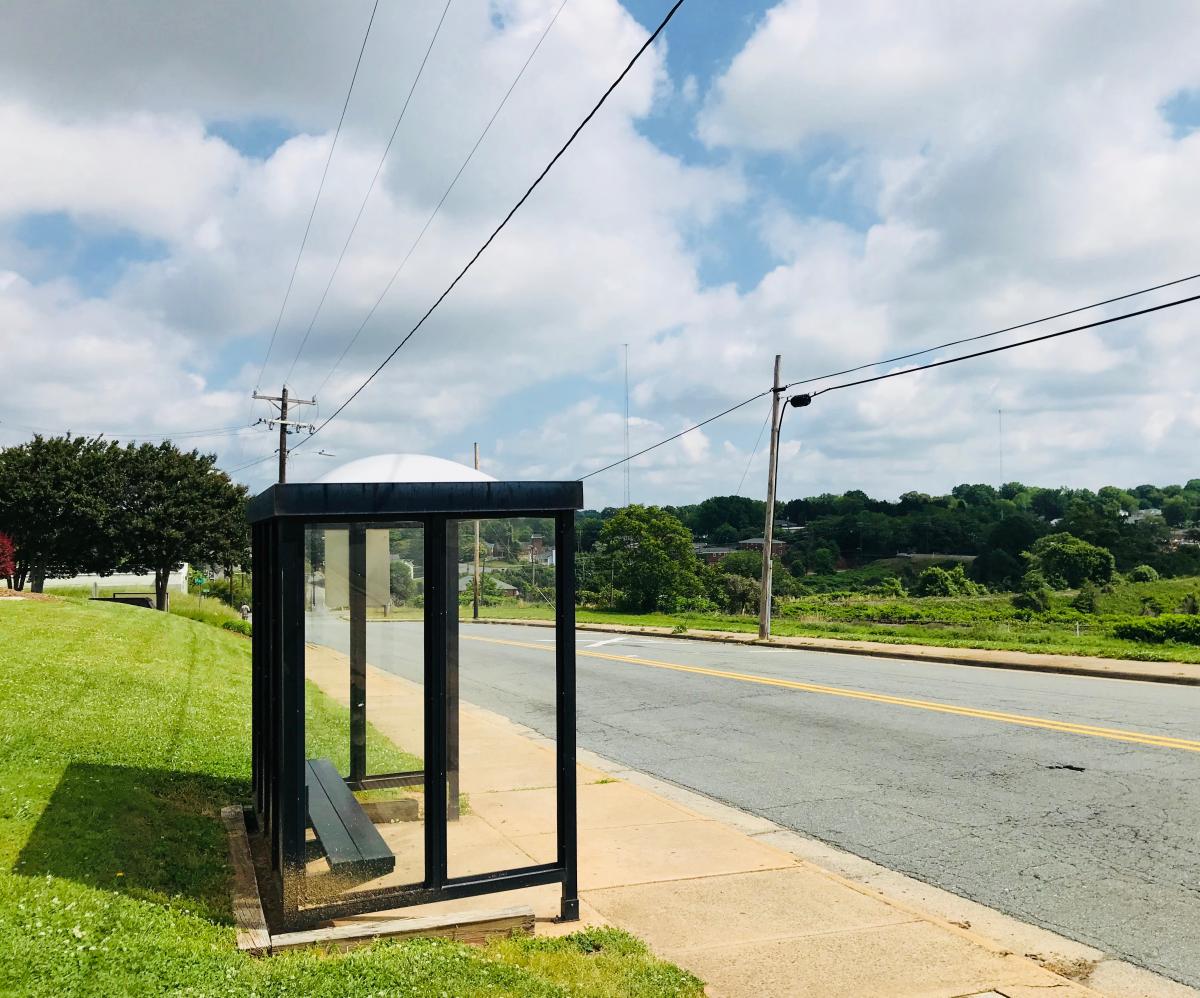 "There are the characteristics of the layout as far as the slope of the land," she says. "And sometimes we may need to build a retaining wall or some type of support other than just the concrete pad and shelter."
So, it turns out that throwing up a few hundred bus shelters is not as easy as one might think. There's pushback from landowners who don't want them. They're pricey to build. Winston-Salem's bus shelter coverage at 5 percent is within one point of Greensboro's — the city with highest bus shelter percentage in the Triad — and it fares better than High Point, with only 3 percent of its bus stops accompanied with shelters. 
In fact, regions across the country are all over the map when it comes these numbers. The American Public Transportation Association recently did a random sampling of more than dozen mid-size American cities. That average was roughly 14 percent, or almost three times that of Winston-Salem. 
Plans On Hold
So, whatever happened to WSTA's planned comprehensive bus route changes? The one where they added a bunch of cross-town routes? Wasn't that supposed to include additional bus shelters too? 
Winston-Salem's Director of Transportation Toneq' McCullough says it turns out the route changes met stiff resistance from many of the riders who depend on public transportation the most. And after putting years of work into the project, within four months of the new rollout, they had to go back to the drawing board.
"The bus shelter plans that we had for the comprehensive change to the routes were put on hold because we were making changes to the routes and we didn't want to put shelters at locations that then later were moved," says McCullough. 
Hope For Riders?
The good news for WSTA riders is that 22 more bus shelters are on the way. And a half-million dollars in federal funding will lead to even more, along with upgrades like benches, new concrete landing pads with curb ramps for wheelchairs, and landscaping improvements.
McCullough says the city's new focus is on streamlining how bus transportation decisions are made moving forward.
"We are in the process of hiring a consultant to help us develop standards that we will continue to use in our system to determine where bus stops should be, so that we're consistent throughout the network," says McCullough.
Sounds like a plan, and one that WFDD listeners like Vicki Schwartz will be following closely on Carolina Curious.