This week WFDD listener Emily Schutt takes us back to school to cover an issue on the minds of many: our education system. 
She asks, "How did the Winston-Salem/Forsyth County Board of Education evolve? I can't find the logic in the two districts, which are racially divided, and I've just noticed how schools are segregated. So, how does our system even work here?" 
As WFDD's David Ford discovered, the answers are complicated and steeped in history.
On the northern outskirts of the city, in a small administration office, Homan Atashbar scans a large computer screen. It's covered with a multilayered map of every street in the county, middle school district boundaries, and more.
Atashbar is the Director of Student Assignment for Winston-Salem/Forsyth County (WSFC) Schools. He says his software generates massive amounts of geographic data from a bird's-eye view all the way down to the ground level, where each student lives in relation to their zone.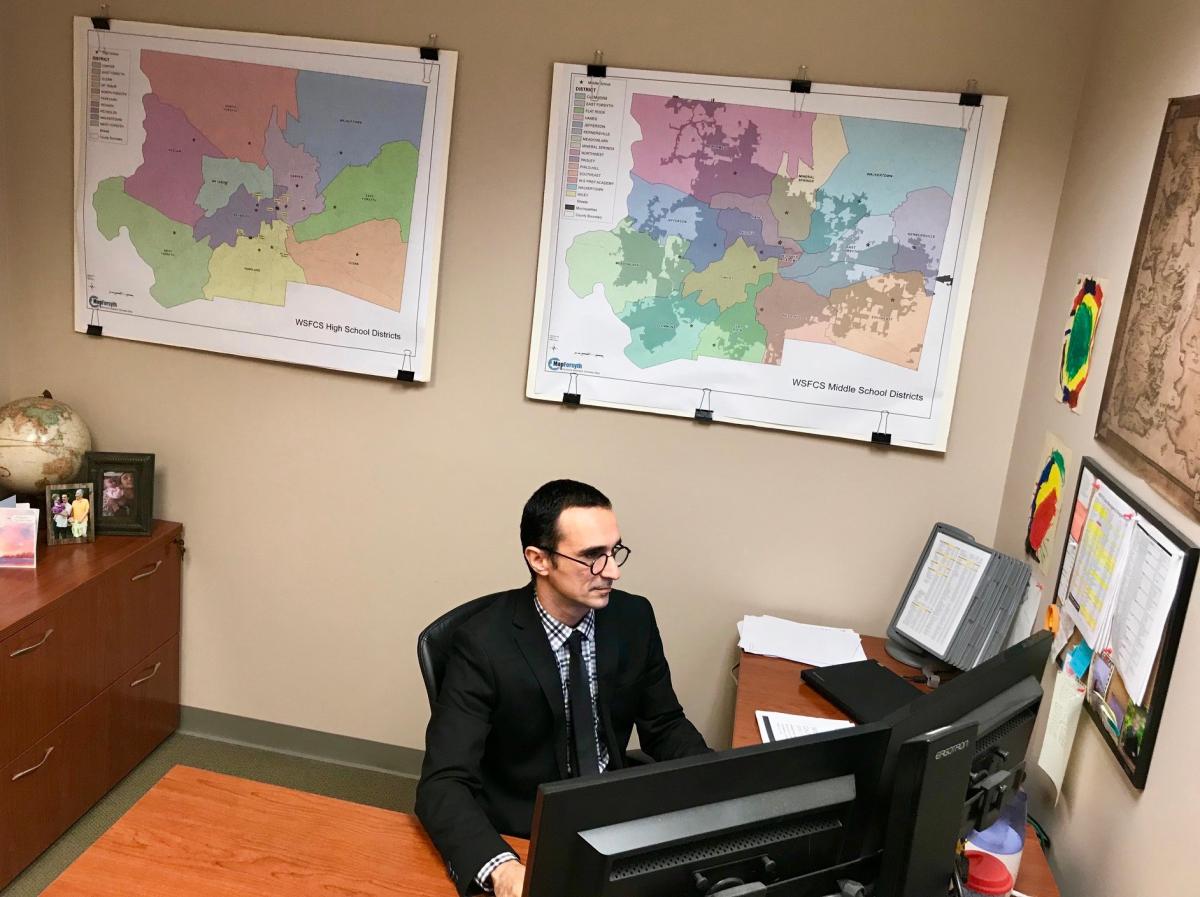 He says before assigning students to new schools, they study a host of factors — from equal access to transportation and capacity issues to third-grade reading scores — but blending logistics, ideology, and philosophy can be tricky.
Thankfully, he says, parents have what's called "controlled choice." Not happy with your nearby residential school? You're guaranteed enrollment at one of three other schools within your zone. 
 "If, for example, we have a school that is in an area that by those logistics we can't capture exactly what we want out of it, we can pair it in a zone with other schools in hopes that with a choice plan, there could be a little bit more balancing happening there based on the factors that are decided at the time," says Atashbar. 
The majority of school district lines here were drawn more than 20 years ago and approved by mostly all-white school boards elected through a system deeply rooted in racial discrimination. That began to change in 1990 when the city was court-ordered to fix it. The district split in two — one primarily urban, and the other encompassing rural areas as well — opening the door for African-American representation on the board.
But the challenges of overcoming decades of resistance on the part of local parents and administrators remained. Retired Winston-Salem/Forsyth County Superintendent Don Martin arrived in the early 90s, towards the end of Supreme Court-mandated busing. That's when black students took school buses to majority-white schools, and white students to majority-black schools to desegregate them.
Martin says change was in the air. Busing was out, and "school choice" was in.
"The letters to the editor were voluminous," says Martin. "And there was clearly a sentiment of, you know, we need to return to neighborhood schools."
Five of the nine incumbent school board members lost their seats that year, ushering in a mandate to draw a new student assignment plan.
"You achieve integration by choice," he says. "You have people make choices to go places instead of making them." 
The problem is that busing actually worked. Integrating schools peaked here in the late 80s. According to the National Center for Education Statistics, busing also significantly narrowed the reading and math achievement gaps. Today, a recent analysis by Propublica finds the WSFC school district is among the most segregated in the state.
The new school choice plan was not universally embraced. Longtime educator Katrina Davis calls it just another vehicle to re-segregate schools, especially in hard-hit neighborhoods like East Winston where she grew up. 
"The school of choice for African Americans, in particular, continued on the decline," says Davis. "However, if a non-minority student did not want to attend a residential minority school then it became an option for them to go somewhere else as long as they provided their own transportation."
Journalist Alvin Chang has covered the issue of segregation getting worse for Vox. He says policymakers who design school choice programs are those who have political clout. Those without it are often left behind.
"If you kind of think about a mother who is financially strapped who is working multiple jobs who has to make these decisions for [her] kids, you want her to do all this research to figure out how to game the system to get their kid into the school that is best for her kid," says Chang. "And obviously some of these systems are already kind of skewed against them because she's having to figure out — what if my only three choices are not great schools to begin with? That's hard. That's putting a lot of onus on individual people who are already facing a lot of strain."
Chang says we have a choice: be a model for inclusivity, or keep the status quo, reinforcing the discriminatory policies of the past. 
Today, the district's entire school assignment and zoning plan is under review, and change could be on the horizon. Two of the nine board members are black women. And there's a new leader. Angela Hairston was appointed superintendent in August — the first African American to permanently head the local school system.
Her stated goal: work on behalf of children to promote equity and inclusiveness.
Support quality journalism, like the story above, with your gift right now.