Carolina Curious: Mount Airy And An Old Testament Mystery
5:19am Jul 17, 2017
Mount Airy may best be known as the inspiration for Mayberry, the town featured in The Andy Griffith Show.
But in our latest edition of Carolina Curious, we're digging into the town's name. And some rumors about its origins are downright biblical.
So, let's hop into the WFDD time machine for just a minute. According to the bible – and plenty of other religious texts – there was a great flood thousands of years ago.
When it was over, Noah – the guy who rode out the storm on a giant ark with two of every animal aboard – eventually landed in the mountains of Ararat in modern-day Turkey.
Which leads us to this question from listener Christopher Holmes:
"What is the true origin of the name Mount Airy? Because nobody I've ever asked about it has been aware of any connection to the Town of Ararat or Mount Ararat from the Bible, but that just seems impossible that there's no connection."
This question isn't as farfetched as it might seem. Chris noticed this on a drive to Ohio.
"Doing that drive up north on Highway 52 and I-77 and seeing Mount Airy and Ararat in quick succession on the highway, I think, you know, your mind starts to free-associate on that seven-hour drive," he says.
Makes sense. For help with this one, we turned to Jessica Icenhour Roberts with the Mount Airy Visitors Center.
Roberts has heard the questions about Mount Ararat and Mount Airy's name before. In fact, she hears them a lot.
"You would be surprised at all the questions that we get, but we do get this question quite a bit," she says. "A lot of people want to know the history of the town."
That history is pretty interesting.
Mount Airy has been a busy place for a very long time. It was a stagecoach stop between Winston-Salem and Galax since at least the mid-1700s. Eng and Chang Bunker, the famous Siamese Twins, lived there. And of course, Andy Griffith was born there and later based parts of his eponymous television show on the town.
But back to Holmes' question. It's not uncommon to find cities, towns, and other features named after religious people and icons. In North Carolina alone, there are more than a half dozen places named for Biblical sites.
So, it's not unusual to borrow these monikers. But does the name Mount Airy have anything to do with Noah's biblical landing place?
Probably not.
"Mount Airy was named after a nearby plantation, and the Ararat River runs through the middle of Mount Airy, our town," Roberts says. "But the name Mount Airy did not come from Mount Ararat."
There are a lot of reasons that place names are what they are. Streets used to be named for where they started or ended. Some cities are named after royalty. And some honor local landmarks.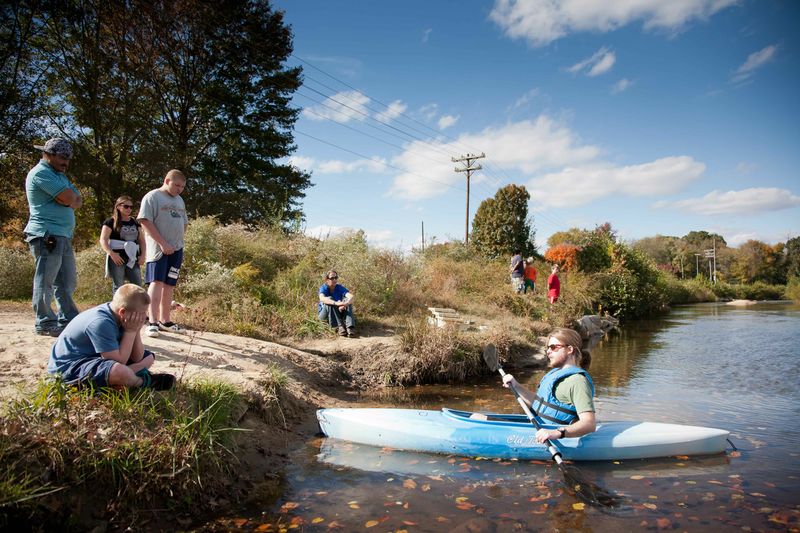 So why does the myth about the town's name persist?
"I think people are very interested in maybe putting those two together since Mount Airy is the name of our town and the Ararat River is so important to us in Mount Airy," Roberts says.
In short, people love a good story, and if you can tie your story to a legendary one like Noah and the Flood, even better.
But Mount Airy has firmly cemented its place in history. Between its importance in early American life and its canonization on The Andy Griffith Show, the town has become a legend in its own right.