As you may have heard by now, WFDD wants you to help us discover things about our region that may not be widely known. It's a new series we're calling "Carolina Curious."
Today, we're tackling the first question in the series. But to get to the bottom of the issue, WFDD's Sean Bueter had the "unenviable" task of visiting local breweries all day. Sean takes over from here.
It's not every day that a reporter is told to investigate beer. In person. On site. Needless to say, this assignment required my undivided attention.
It was tough. So tough, in fact, that I brought a listener along to give me a hand. In fact, she's the listener who asked the question that spurred this story: Greensboro resident Lauren Schaefer.
Now, Schaefer wasn't a huge fan of beer before she entered into this Carolina Curious adventure. But she loves Greensboro, and is closely tracking the city's evolution.
Her question:
"Why are there suddenly so many local craft breweries in Greensboro? And is this happening all over the state, or is Greensboro really special in this way?"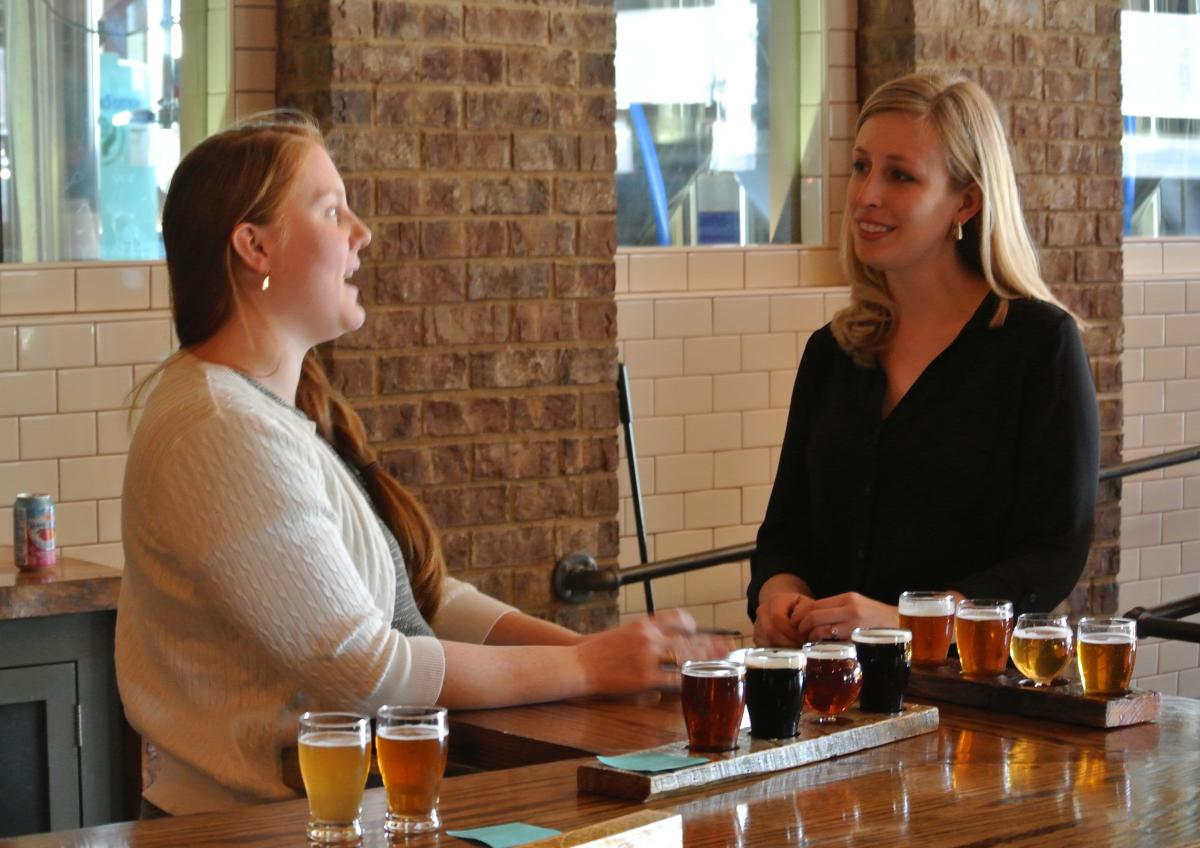 I'm still pretty new to the Triad, and I was curious about this too. So we met up with the owners of Preyer Brewing in Greensboro to take a tour and get some answers.
Preyer has only been around a year or so. It's a small, family-owned brew house on Battleground Ave., near downtown. All the beer they serve is created in-house in relatively small batches.
Owners Calder and Nicole Preyer were born and raised in Greensboro. Nicole says the city has a great food scene and tourism infrastructure. But just a few years ago, beer was another story.
"We didn't have that critical mass of breweries that would make people go, 'I think I'll take a day trip or an overnight trip to Greensboro and try a few of these places,'" she says. "You need more than one, two, or even three in order for people to justify making the trip."
Essentially, people like Nicole, Calder, and others thought Greensboro was behind the rest of the state when it came to great beer.
Lauren Schaefer brings up a good question: "Are we at that critical mass now?"
Calder Preyer jumps in.
"I'd say yes and no. 'Yes,' in the sense that there's now enough breweries here to talk about [how] we actually have a beer scene, in the sense that it's more than just Natty Greene's and Red Oak. But I think 'no' in the sense that Greensboro can absolutely support more breweries."
As with the craft beer communities in so many other cities, it's a mixture of passion and opportunity that's driving the brewers in Greensboro. But is it limited only to Greensboro?
Not a chance.
"It is a statewide phenomenon. And not only is it a statewide phenomenon, it's a national phenomenon," Knight Metzger says. "There are 150 breweries in North Carolina, but there are 4,000 in the United States."Margo Knight Metzger is executive director of the North Carolina Craft Brewer's Guild. If you want to find out about Tarheel suds, you go to her.
She says she expects 180 brewers to be operating by the end of the year, continuing the huge growth trend the industry's seen.  
"I think people are most excited about the brewery that's in their backyard, that local flavor. They get to know the brewers," she says. "That taproom becomes kind of a gathering place and a public house for their community. And they take pride in that."
As listener Lauren Schaefer and I finished up our brewery tour at Preyer, I wanted to know what she thought about all this. She says she's excited about the cultural and economic possibilities the beer boom could bring. And while she may not become a hophead, she has a new appreciation for her city's local brews.
"You know what? I know I said at the beginning that I wasn't the biggest beer drinker in the world, but now I have a great respect for beer, understanding how it's made and how connected to this place it is," she says. "I think that I'll be drinking a little more of it here."
Another convert? It sounds like an achievement that deserves a toast. But since I can't top the heady salutes that have been offered before, I'll offer a simpler one.
Cheers.
We want to hear your question for "Carolina Curious". Submit yours below. 
Support quality journalism, like the story above, with your gift right now.