Carolina Curious: Can School Police Question Your Child Without Consent?
6:00am Mar 23, 2018
After the deadly shooting at a Florida high school last month, lawmakers all over the country are looking at how to make schools safer, including in North Carolina. Part of that movement has focused on beefing up the presence of school resource officers, or SROs.
But the program has had its share of controversies.
For this Carolina Curious report, one WFDD listener wants to know more about how SROs work and the rights of students. They ask, "Can SROs question minors without their parents present?"
Our fact-finding mission begins at Walkertown High School in Forsyth County. Principal Misty Walker says she has a number one goal: preparing the students for life beyond high school. To do that, she says, she has to keep students safe. But she doesn't do that alone.
While she has the authority to make certain her campus is safe, there can be situations that are reportable, or legal offenses. That's when the SRO is notified.
"[If] a student brings a weapon on campus or they have drugs, I'm required legally to report that immediately to our SRO," Walker says. "There are school consequences that are assigned from a disciplinary standpoint, but there's also a legal investigation that occurs at that time."
An SRO is basically a cop whose beat is the school. They're in full uniform, gun and all, just like you'd see an officer on the street. But they don't involve themselves in usual disciplinary matters unless a high-ranking school official calls them in; teachers can't request them.                           
But once an officer gets involved, what happens when a minor is interviewed? Is a parent present?  
Lieutenant Tom Peterson with the Winston Salem Police Department oversees the SRO program for Winston-Salem/Forsyth County Schools. He says that's "a complicated question."
According to Peterson, if a student is in custody or under custody arrest, and under 16, it's required that a parent, guardian or custodian is there with them for any interview or interrogation.
The key word here is custody, and it's kind of a gray area.
Let's say a student is walking down the hall and an SRO stops and asks them a question; that does not require parental consent.
But this is all open to interpretation, and it often gets challenged.
"The clear definition of custody is being in handcuffs, being not free to leave," Peterson says. "Custody can be extended beyond that. If a student is taken into an SRO office, with principal staff there, we know they are the sole and the primary suspect, we know charges are likely to extend from that, we're gonna go ahead and notify a parent or guardian to be present."
According to the advocacy group Education Justice Alliance, it doesn't always happen that way. They say officers who break the policy aren't being held accountable and are protected by their law enforcement superiors. They add that school policing unfairly targets minority communities.
And there's data to back that up.
In Wake County schools, black students make up 24 percent of the total population. But, they're involved in nearly 70 percent of SRO interactions, according to the most recent numbers available. And these students are more likely to be referred to court.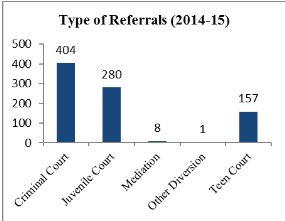 EJA Organizing Director Fernando Martinez characterizes the relationship between students and officers as 'problematic.'
"They build trust between the students and police officers, and sometimes, without the student knowing, they could be placed - or their friends and family could be placed - in a kinda gang database," he says. "Anything they share with the police officer could be used against them, and they believe that they are talking to a mentor. So we basically don't want police in the schools."
Martinez says police belong outside the school, not patrolling hallways.
But back at Walkertown High School, Principal Walker says if anything, SROs enhance the culture of her school.
"I think the perception is if you're SRO, just like if you're an administrator, if they have good relationships with kids, it breaks down barriers and helps make our campus safer," she says.
There's one issue on which critics and advocates agree when it comes to the use of SROs - communication is key. They urge parents to get involved and to form relationships with school principals and teachers and to also make sure their children know their rights inside, and outside, of the school community.