A new boxing program in Winston-Salem is hoping to curb youth violence and help prevent kids from going in the wrong direction. It's also helping families find better ways to connect with their children.
The boxing gym at the Minnie Lee Davis Harris Recreation Center in East Winston is filled with activity on a weekday night.
Twelve-year-old Jayla Brown is practicing her steps. 
"My arms were cramping for a week," she says. "It hurt ... you really have to relax all of your muscles."
Jayla is the youngest of seven kids who are participating in a new 10-week program called Knock Out For Change. She loves how it gives her an outlet to express how she's feeling.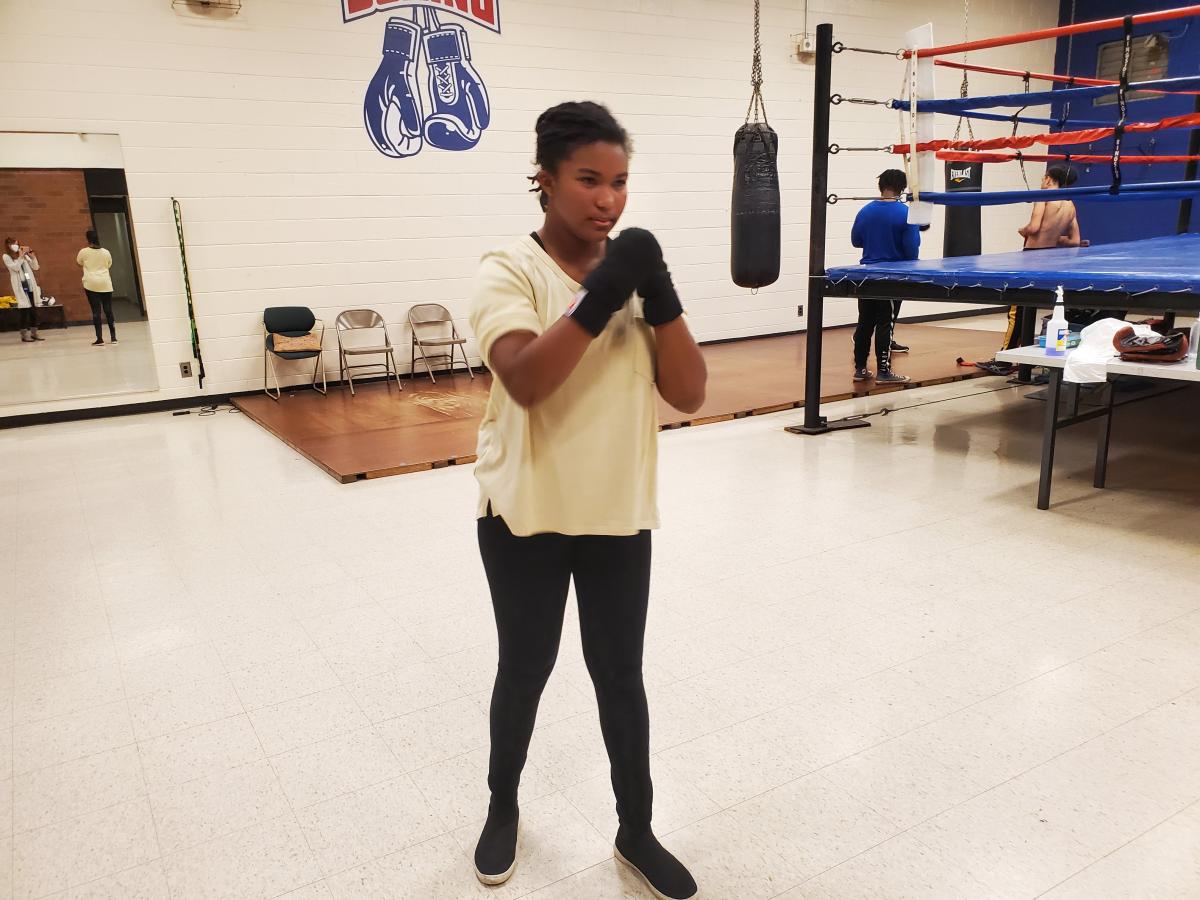 "I get to show my strengths and it helps me relieve stress with school work. I have lots of school work," Jayla says. "And then I'm the oldest out of three girls and I have to help with my sisters and they are all really annoying."
The initiative is a collaboration between a local nonprofit called The Parenting PATH and the city's Recreation and Parks Department. It's mostly funded by federal COVID relief dollars from the County's Juvenile Crime Prevention Council.
Program Manager Michael Cole says along with exercise comes discipline, patience and focus.
"You know, just like life — repetition, repetition. Just like going to school, repetition, repetition. Just like saying 'Yes sir,' 'Yes ma'am,' and so that's what we try to instill in them is repetition," says Cole.
Children ages 12 to 18 are referred to Knock Out For Change through the court system, schools and other government agencies, even by parents themselves.
The goal is to reduce juvenile delinquency and prevent gang association and involvement.
It's also about improving family relationships and learning life skills.
Deborah Hemsley with The Parenting PATH says the pandemic has been hard for many families as they try to balance work schedules and help kids readjust to school and routines.
During this program, she says the kids enjoy getting to spend time with their parents at the gym.
"They like the structure, they like the attention, they like the praise, and it helps a lot," says Hemsley. "I think it goes out into the community and in the school, for better grades and for them to be able to problem-solve in the classroom with their peers."
What makes this boxing program different from prior efforts is that it pairs group counseling with the physical benefits of boxing.
Parents and their children are divided into separate groups so they can discuss what's on their minds. From conflict resolution to compromise strategies, there's a lot to learn and share.
Jayla's mom Jessica Brown says all of this is making a difference in her daughter's life. Little things like asking her to do chores at home is a lot easier, and Jayla's opening up more to her teachers at school.
"I feel like a weight has been lifted because before both of us were frustrated with each other, there was a block I would say in between us. I feel like we have kind of broken down some of those barriers," says Brown. "I definitely feel like she is more comfortable coming to me with things. I just think I'm a better parent with the tools that I've been given."
At the gym's jump rope station, 16-year-old Ramone Richardson is warming up for the next task. He says he can be himself here because it's a no-judgment zone. He thinks Knock Out For Change is giving him confidence and a push in a better direction.
"Don't waste time. Procrastination is a killer. Make some goals, plan out your time, eat better," says Richardson. "Try to make the future better than how it is today."
Organizers say intervention programs like this help to keep at-risk youth from slipping through the cracks and reduce recidivism rates for kids in the juvenile justice system.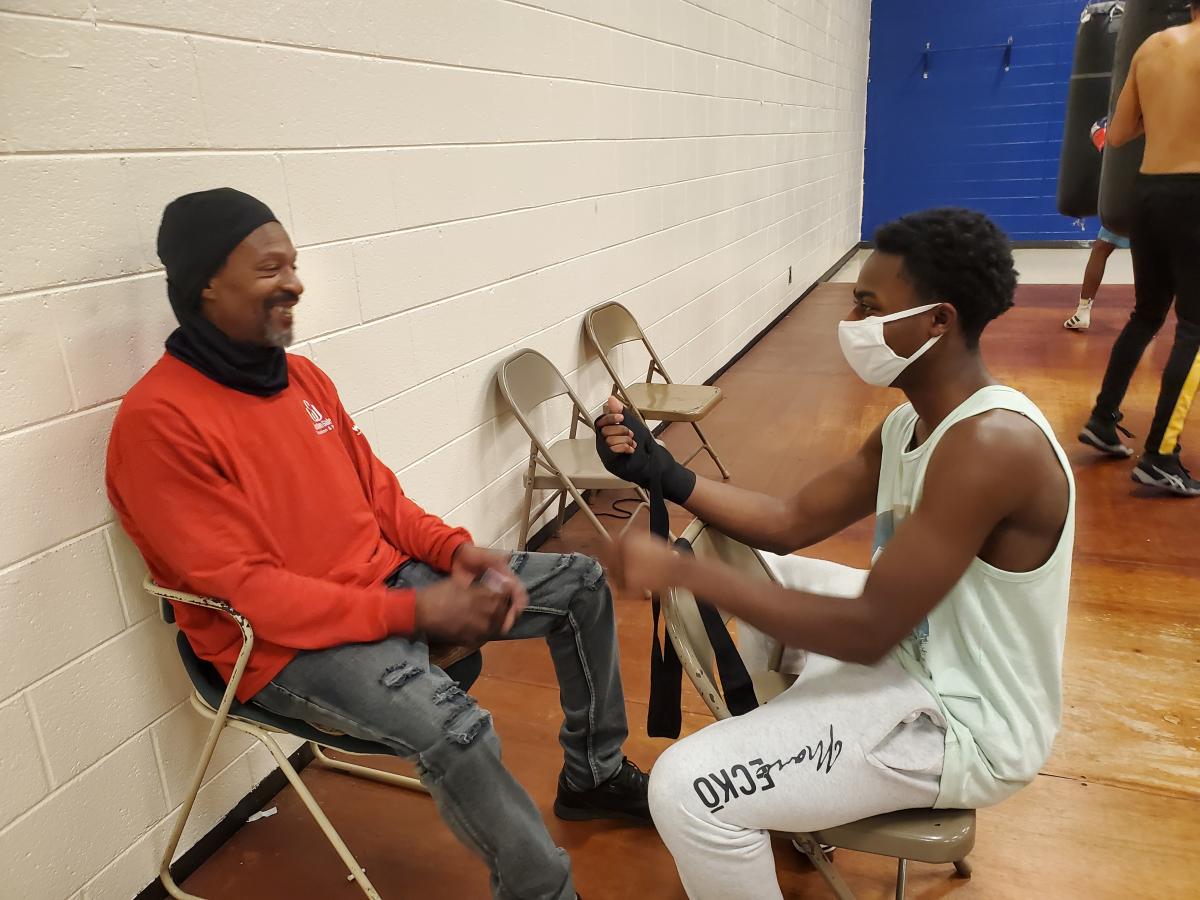 According to the North Carolina Department of Public Safety, there was an increase in juvenile complaints in Forsyth County last year compared to 2019, and violent crimes among youth doubled during that same period.
A local initiative, similar to Knock Out for Change, last year showed that 21 of 22 teens who participated had no new criminal charges after they started the program. 
These successes are what inspire trainer Clifford Hardy, who's been boxing for decades, to work with these kids.
"There's nothing like watching one of these kids come in here and knowing they was in trouble and [in] three to four years they are in there winning gold medals and Junior Olympics and they are hugging you and giving you that warm hug and thank you," says Hardy. "Money can't touch it. It can't touch it."
He says programs like this create a sense of belonging and family.
Hardy grew up in East Winston and he says like many community members, he's tired of the gun violence and hearing about more incidents involving youth.
"And that's one thing that this program do is that it has saved a whole lot of lives. And it's going to save many more," he says.
Next month, Jayla and her peers will graduate from Knock Out for Change. She says she's proud that she didn't quit and plans to continue building off of the positive changes she's made in the program.
More sessions are being planned and discussions are underway in hopes of using this model for other activities including art and basketball.
Follow WFDD's Keri Brown on Twitter @kerib_news
Support quality journalism, like the story above, with your gift right now.