A group of Black firefighters has filed a federal lawsuit claiming racial discrimination in the Winston-Salem Fire Department. 
One of those firefighters says it was time to break a longstanding tradition of silence.
March 1 was a big day to mark a historic event. Crowds gathered at a church that was once Engine Co. 4. On this date 70 years ago, the City Of Winston-Salem became the first in the state to have an integrated firehouse in this building east of downtown. 
But inside the firehouse, not all was peaceful. The Black firefighters weren't always treated as equals. Sometimes they were even left behind when fires broke out in white neighborhoods.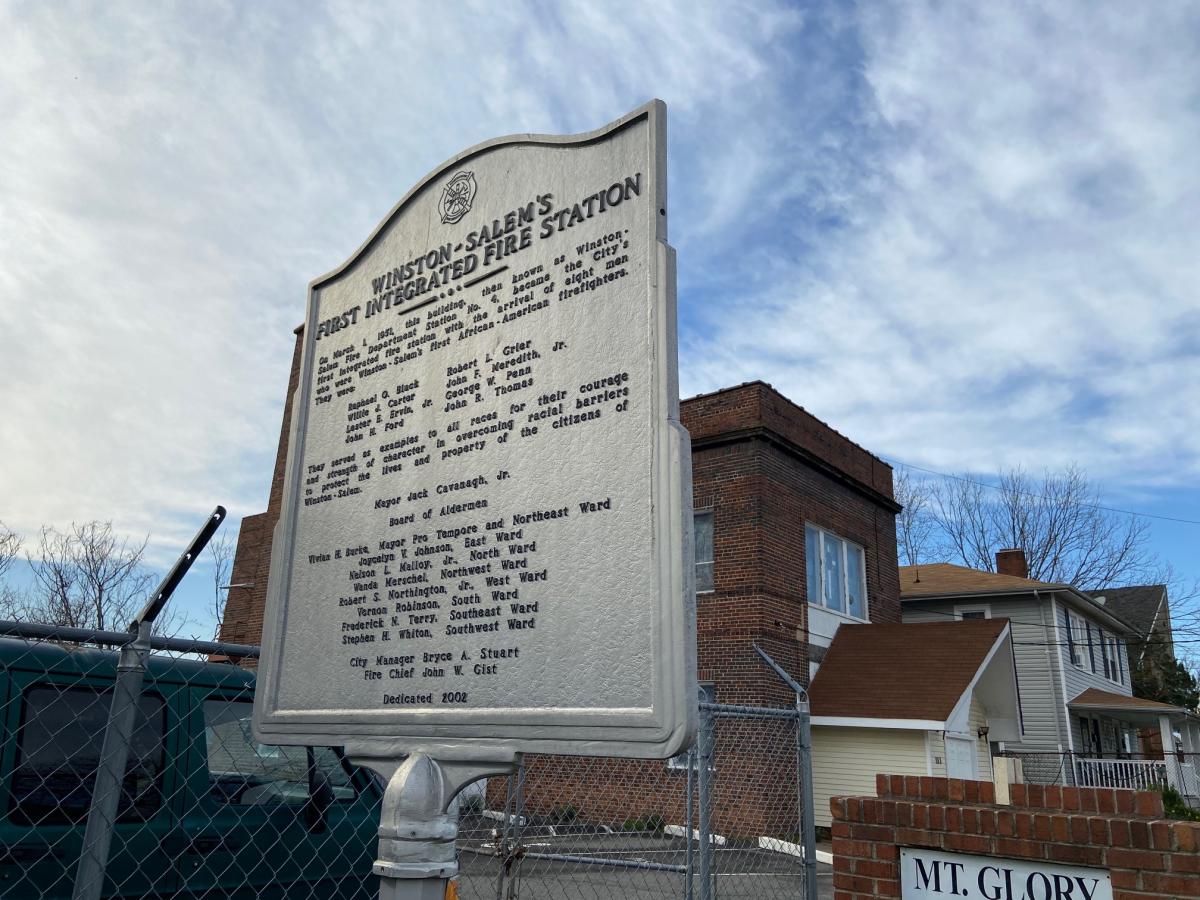 And yet they fought on. At the ceremony, Councilwoman Annette Scippio talked about the responsibility placed on their shoulders.
"If you failed, there will probably be no others coming," she says. "You made the sacrifices. To be unquestionably excellent in everything you did, they were professionals."
For firefighter Thomas Penn, who is Black, part of that sacrifice was not speaking up. He says that for years, silence helped firefighters get along with their white counterparts and created a culture that made it easier to hire more Black recruits.
Yet even as far back as rookie school in 1993, Penn says he saw a difference in how Black recruits were treated. They seemed to be tested harder. 
"There were several individuals in a department who were experiencing the same types of things, same types of behavior and actions and retaliation, he says, "And the consensus then – keep your head down, do your job. Don't worry about it."
But that's just not Penn's way.
"I was raised to address the bully," he says. "I was raised to address the individuals who disenfranchised others. So it became difficult for me to eat this every day, to eat this emotional baggage that I was gaining more and more and more."
In 2016, Penn went to his superiors with a complaint about what he says was a racial double-standard in the enforcement of the department's facial hair policy.
He paid the price for speaking up. He says he was moved to a different firehouse and threatened with demotion.
Penn filed a federal discrimination lawsuit in 2018. That lawsuit against the city was ultimately settled. Penn says problems remain.
"The department itself has a core of systemic racism that they're allowing to remain in place," he says. 
Now, a new organization of Black firefighters has formed. It's called OMNIBUS. 
The group went public, sharing their experiences of racism in a press conference and demanding that Chief Trey Mayo be fired. 
Last year, they filed a grievance against the city. Among the issues — someone put a gorilla mask on a Black recruit's desk, and white firefighters had made social media posts saying they wanted to run over Black Lives Matter protesters.
The city responded by hiring a consulting group to look into the culture of the department.
But Penn says OMNIBUS had to fight to even have a voice. He says they were not initially invited to take part.
"They do not bring things to us," he says. "They handle it in their own way, which over the years has been proven not to work. So here we are. But no, we actually had to to reach out to them to have our voice heard."
The consultant's assessment found some bright spots in the department's history. One of the eight firefighters who first integrated Engine Company 4, Lester Ervin, went on to lead the department, becoming the first Black fire chief in the state.
It also found problems. Employees both Black and white said that the severity of discipline is dependent upon race. 
Also, several white recruits from rural areas had little exposure to Black people or culture, which led to conflicts.
Penn filed a second federal lawsuit in February, this time not alone but with four other current and former Black firefighters. One of their attorneys, Michael Cole, says it's a way to finally be recognized.
"What we really want to do is have the people who are creating this environment hear them, hear the seriousness and the sincerity of their concerns and their complaints and take a moment," Cole says. "They have the first opportunity to say, we hear you, we recognize the problems, we're going to address them."
Among the lawsuit's complaints, a white captain repeatedly used the n-word in the station and that his wife, also a white captain, had written a published article titled "Less Diversity is Needed in the Fire Service."
The complaint represents only the Black firefighters' side of the story.
Attorney Cole says it's easy for city leaders to rename streets to honor Black firefighters, what's harder is making lasting systemic change.
"The American dream is the ability to communicate, express what you have to say and contribute to how things are better," he says. "And that's what these people are really now seizing, because it's been taken from them."
Neither City Manager Lee Garrity or Councilman James Taylor — who chairs the public safety committee — responded to requests for interviews for this story.
City attorney Angela Carmon declined to comment on the pending litigation. Her department is working on a response, which has not yet been filed with the court.
Support quality journalism, like the story above, with your gift right now.