The Malloy/Jordan East Winston Heritage Center branch of the public library is showing weekly films this summer that spotlight African-Americans' profound contributions to the world of rock 'n' roll. It's called the Black Rock Doc Series, and includes films like Wattstax, Afro-Punk, and March of the Gods: Botswana Metalheads.
Diarra Leggett, an assistant librarian at the East Winston branch, curated the program. Leggett grew up being a black kid into punk and rock music, and says at times he felt different from his peers due to his musical tastes.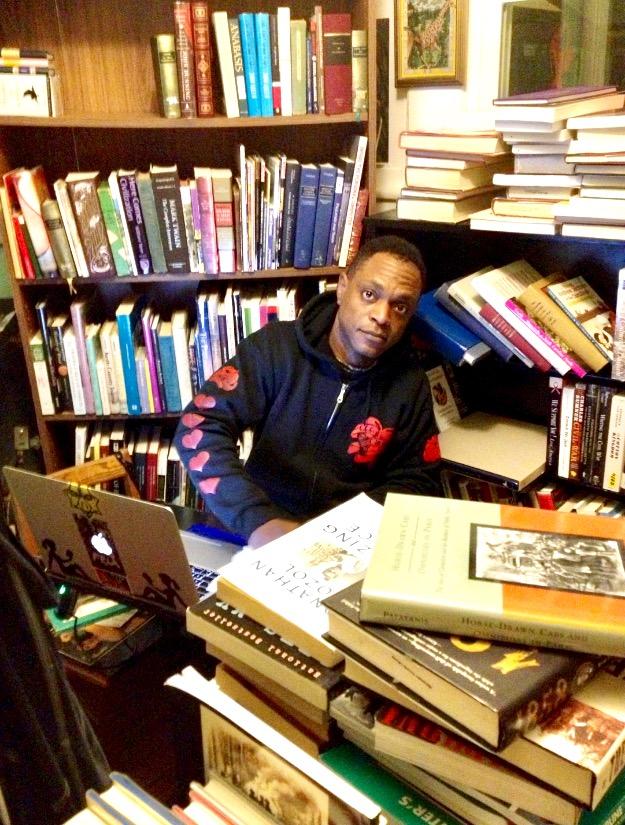 He put the series together in the spirit of the American Library Association's "Libraries Rock" summer reading program, framing it in a way to reflect the primarily black community that the East Winston branch serves.
"Essentially rock 'n' roll is black music. It was just popularized by white people. It's black music; if you're black, it belongs to you," says Leggett. "This is your culture. It just was misrepresented for a long time, and now it's become ingrained for people to think of it as being white people's music, which couldn't be farther from the truth."
*To hear complete versions of the music featured in the audio of this story, scroll down and press play on the Spotify playlist.
Interview Highlights
On feeling "othered":
I had a moment here at the library where it was a bit like a flashback. When I was showing the Fishbone documentary, and I tried to get people to come back. I was like, "Hey black people, check out all this blackness in rock 'n' roll. This is ours too. This belongs to us. Come see yourself be represented," and nobody came back. I was like "This is what it was like when I was in high school trying to get people to realize that rock 'n' roll isn't just some white boy stuff."
On the film Afro-Punk:
The film is about recognizing the representation that is often overlooked. I saw that movie when the filmmaker was on tour and he screened it at Guilford College several years ago. He and I speak somewhat frequently. There was a lot in that movie that directly mirrored my personal experience. There were a lot of people in that movie that I have met over the years. It's a fairly personal movie for me.
On what he hopes people take away from the series:
Just that there are many expressions of blackness. Blackness is rock 'n' roll, as well as so many other things. It's rock 'n' roll, it's gospel, it's reggae, it's R&B, it's hip-hop. You know, being black is not a way that you are. It's just who you are. I'd just like to bring more exposure to various expressions of the black experience.
Screenings take place on Mondays at 3:00 p.m., and the next screening is on July 16 when the library will show Afro-Punk.
Support quality journalism, like the story above, with your gift right now.