Arts Council Aims To Change Communities One Mini-Grant At A Time
2:33pm Oct 24, 2016
In the John F. Kennedy High School auditorium on the East side of Winston-Salem, about forty students are playing a classic improvisation game called "Zip, Zap, Zop." It's an acting game, but it serves a practical purpose. Most of these kids come from economically disadvantaged households, and they're mostly minority. Improv is helping them get over their fear of public speaking, which can be a crucial barrier to success in today's job market.
 "When we first got together, I was just nervous. I was like, I didn't know if I was gonna be able to do it or if I would be messing up all the time," says JFK eighth-grader Stephen Sullivan. But he adds that he quickly realized, through improv, that messing up is just an opportunity to try again.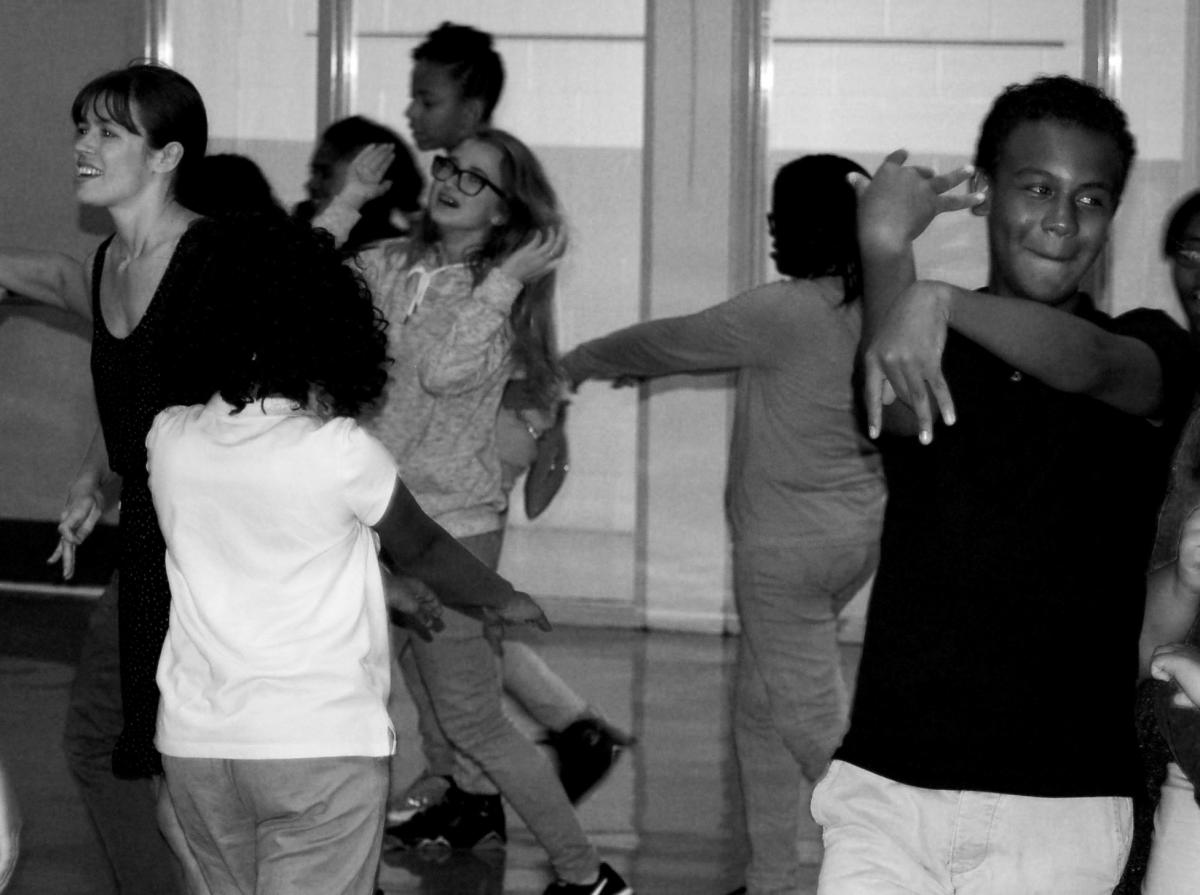 This workshop is made possible by a "Community Enrichment Mini-Grant," which are small amounts of money awarded to a variety of projects by the Winston-Salem and Forsyth County Arts Council  – up to $500 each.  Jen Brown, "The Engaging Educator," is a grant recipient and runs the workshop. 
"Seeing that kind of growth that happens in a failure-free environment – because that's what improv is all about... fail big, fall on your face, be a fool and then everything else gets easier – seeing that growth happen is really what I look forward to most in these residencies," says Brown. 
For more than sixty-five years, the Arts Council has been the organization that writes big checks, supporting established groups like the local symphony. But there's a national movement to reach out to a wider variety of artists, from all corners of the community, and one way the Arts Council is nurturing this big trend is by going small; supporting individual artists through mini-grants. There are two main goals with the mini-grants program: supporting a range of arts like improvisation, and discovering new applications for them.
Director of Major Gifts Devon McKay says getting smaller amounts of money into the hands of new artists allows them to experiment, and eventually realize their artistic vision. 
"I probably would argue that there's always been the same reasons for embracing the arts, but you have to use different points of entry to get them kind of hooked," says McKay. "I think the Arts Council and organizations like it are getting a little more savvy about looking for ways in which we can pull people in."
She adds that mini-grants are allowing artists to reach untapped audiences in neighborhoods and venues that have been neglected in the past, and she hopes to see the list of emerging artistic communities grow.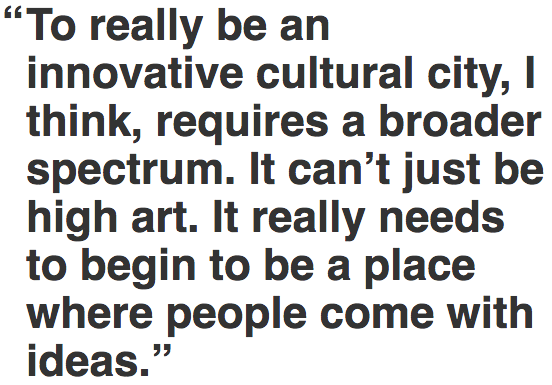 This idea of offering smaller grants to a wide variety of organizations represents a huge cultural shift for the organization, according to Council President Jim Sparrow. 
"To really be an innovative cultural city, I think, requires a broader spectrum," says Sparrow. "It can't just be high art. It really needs to begin to be a place where people come with ideas."
He says the Arts Council is uniquely positioned to help "creatives"  bring their new ideas to fruition.
"I like to use the term 'creatives' because when you get around creative people you find that there's usually an artistic root of some kind. When we talk about innovation, it's about finding creative solutions. It's about opening those doors. Arts are a great place to learn how to do that."
But broadening the definition of the arts in this way does mean slightly less money to go around to some of the more traditional arts organizations who, for decades, had become accustomed to ever increasing subsidies from the Council. Twin City Stage, now in its eighty-second year, is an example of one arts group that is looking for new ways to reposition itself in the 21st century arts marketplace.
Executive Director Connie Quinn Schroeder appreciates the role that the Arts Council used to play as basically an underwriter for arts organizations. But, while she acknowledges that all arts organizations would like more funding, the Council may be onto something.
"I think the model that they've gone to is a far stronger model for a funded partner for a member of the arts community that they support," she says. "Not only is there the financial backing, but there is the resource and the man power and the knowledge and information [and they're] always willing to help with that. I mean they truly have become a partner to the organizations."
The next application round for mini-grants closes at the end of this month. It'll be another chance for the Council to make important new connections in the community, and to help more artists along their creative paths.