With thousands of young demonstrators marching in Winston-Salem to protest the police killing of George Floyd, an older generation in Winston-Salem is looking back.
This weekend marks the 35th anniversary of Darryl Hunt's wrongful conviction. The African American Winston-Salem native was given a life sentence for the rape and murder of a young white newspaper copy editor, Deborah Sykes. Hunt was the victim of systemic racism and a police department determined to gain a conviction at all costs. Through DNA evidence, he was eventually exonerated after 19 years behind bars. 
But rather than respond with bitterness and justifiable anger, Hunt dedicated the rest of his short life to fighting for change. 
Law professor Mark Rabil represented Darryl Hunt in court for 20 years. Today he directs the Innocence and Justice Clinic at Wake Forest University.
"You know, I've thought about Darryl a lot the last couple of weeks," says Rabil. "I think it is important to stop right now and think about what would he have said. Because he basically dedicated his life to talking to people about racism, classism, and the issues of justice."
The injustices Hunt suffered — false testimony, hidden evidence, all-white juries — led to groundbreaking legal reforms: new interrogation techniques, changes to how lineups were conducted, and new laws that force police to turn over all reports. Hunt's case also helped bring about the Racial Justice Act, which prohibited seeking the death penalty on the basis of race.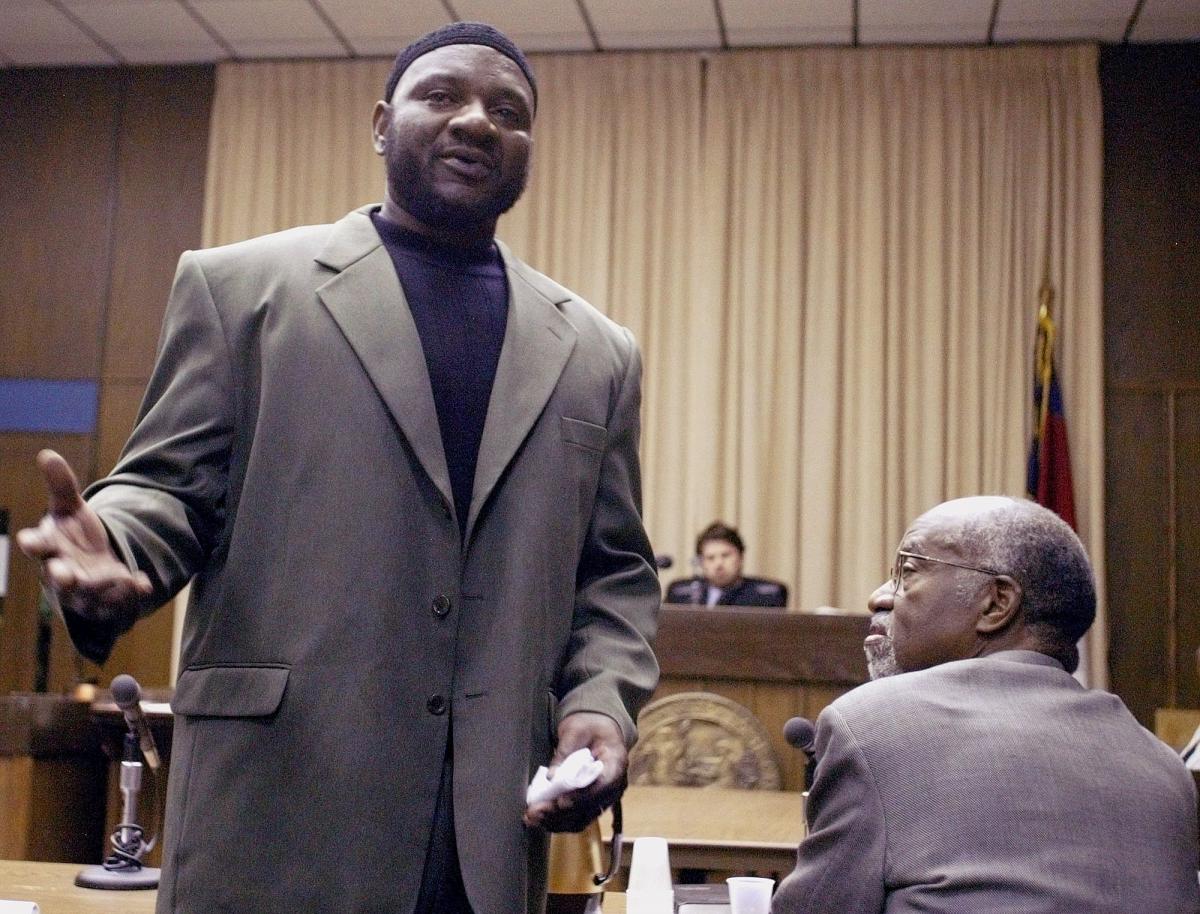 Darryl Hunt, left, gestures as he addresses the family of Deborah Sykes. James Ferguson, one of Hunt's attorneys, looks on at right. (AP Photo/Chuck Burton)
Rabil says the impacts of Darryl Hunt, and the documentary about his life continue to be felt today.
"I can't tell you how many students I've run across that actually went to law school because they saw that film and because they heard Darryl speak," he says. "And those people now — you know, some — they're district attorneys, they're judges, people that knew Darryl. He personally inspired so many people. And those people are now in power."
Retired Minister Dr. John Mendez chaired Hunt's legal defense fund. He says many of the demonstrators he sees on the news these days may not be familiar with the struggles of the past, but that's okay.
"I'm extremely proud of what these young people are doing with these protests and whatnot," says Mendez. "But the seeds were set by people like Darryl and others, so this just did not fall out of the sky. It has a history to it that unfortunately has been ignored and neglected too long. But now it's out there and they're going to have to make some changes."
RELATED: Darryl Hunt: Physically Free, Mentally Still Locked-Up
Mendez says Darryl Hunt's most enduring legacy became evident seconds after his exoneration in court when he turned and addressed the Sykes family.
"He said, 'I did not kill your daughter, but I know your pain is greater than mine because you lost a daughter. I lost 19 years of my life,'" recounts Mendez. "And he went on to talk about how he prayed for their family every night. I saw Ghandi. I saw Martin King. I saw many other exponents of nonviolence standing there in the spirit of Darryl Hunt that particular day."
Phoebe Zerwick, a former Winston-Salem Journal reporter whose work helped lead to Hunt's exoneration, is writing a book on his life. She says in addition to the reforms he's known for today, his true passion quickly became helping others who were getting out of prison adjust to the outside world — finding a job, a place to live, and educational opportunity.
"To me, Darryl was in a way ahead of his time," Zerwick says. "I mean, today reducing mass incarceration has become almost a bipartisan issue. And Darryl understood that it's not enough just to let people out of prison. We need to make sure that people coming out of prison are able to reenter with the support that they need."
Another place where Hunt's legacy is kept alive is in the very police department that betrayed him decades ago. Winston-Salem Chief of Police Catrina Thompson says the Darryl Hunt/Deborah Sykes case will forever be a model for her department of what not to do.
"Eyewitness testimony is important, but that testimony needs to be backed up with data — DNA, electronic, and any other modern-day technology that could help corroborate or disprove eyewitness testimony," says Thompson.  
Thompson says she's confident that they will not repeat the past.
Sadly, Darryl Hunt was unable to escape his own past. The pain of systemic racism, wrongful conviction, nearly two decades in prison and months in solitary confinement, ultimately took its toll. In 2016 he was found dead inside a vehicle with what was determined to be a self-inflicted gunshot wound. 
Many who knew Hunt marvel at how he could have gone anywhere after his conviction, but he chose to stay. His friend Dr. John Mendez says he knew the moment he met Hunt that he was someone special. 
"He was a beautiful brother with a beautiful spirit inside and out," he says.
Support quality journalism, like the story above, with your gift right now.