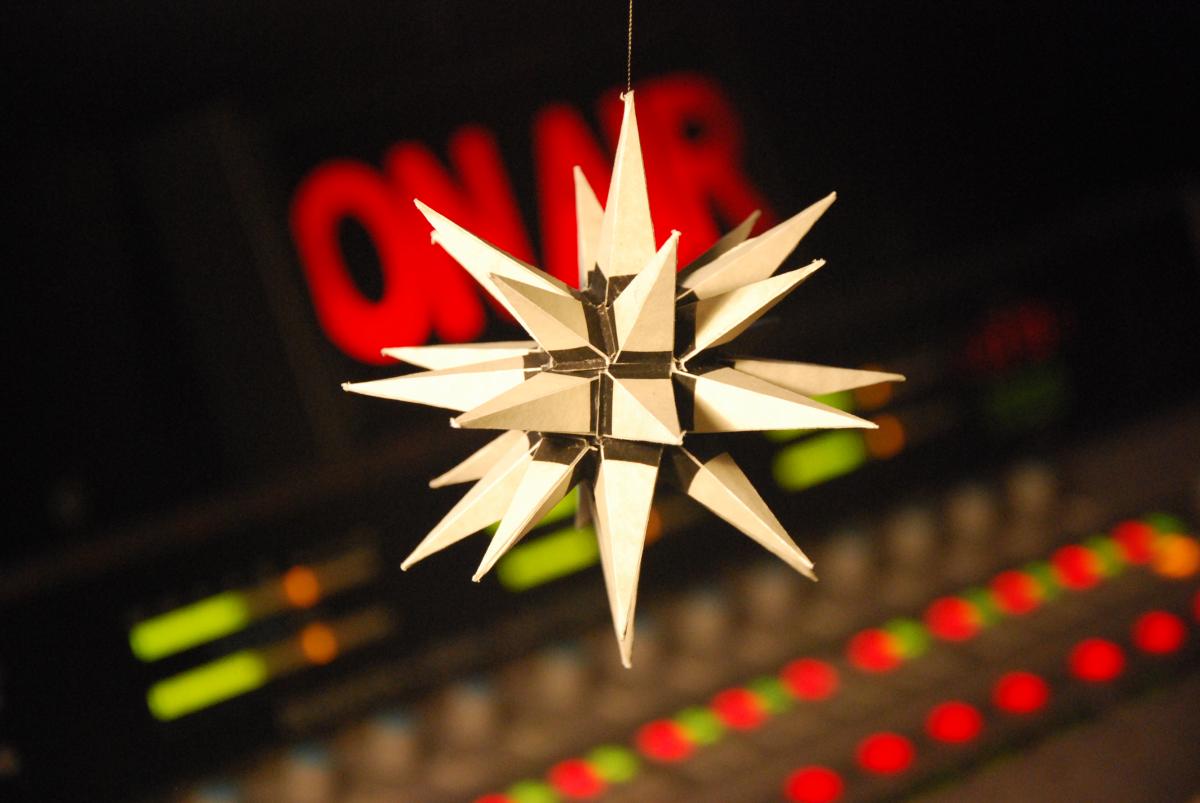 Make plans to tune in for one, or all, of these favorite and new holiday programs from American Public Media, NPR, and PRX. We hope that these programs add to your family's holiday celebrations, and maybe even create some new traditions.
November 29th @ 8pm
Hanukkah Lights 2021 - NPR
Sponsored by: Rabbi Marc Cohn
A perennial NPR favorite with all new Hanukkah stories. Hosted by Susan Stamberg and Murray Horwitz. 
November 30th @ 8pm 
Candles Burning Brightly - APM
Sponsored by: Rabbi Marc Cohn
Mindy Ratner hosts a new edition of this holiday favorite, in celebration of Chanukah, the Jewish Festival of Lights. Candles Burning Brightly explores Chanukah foods and traditional activities - and plenty of music. 
December 1st @ 8pm 
A Chanukah Celebration with Chicago a cappella - PRX
Sponsored by: Temple Emanuel GSO
Join Jonathan Miller, artistic director of Chicago a cappella and a longtime champion of Jewish choral music, for an inspiring and informative show featuring choral music set to Chanukah texts. Familiar tunes include "I Have a Little Dreidel" (both in its original Yiddish form and in a neo-funk Hebrew/English setting), a swing version of "S'vivon" by Steve Barnett, and a lively setting of the traditional melody for "Al-Hanissim" ("For the Miracles") by Elliot Levine. 
December 20th @ 8pm
All Is Bright - APM
Sponsored by: A La Brava Hot Sauce
Hosted by Lynne Warfel, All Is Bright: Contemplative Music for Christmas features one hour of gorgeous, contemplative music related to the Christmas season and its symbolism. Presenting sacred choral music grouped in a way to tell the traditional Christmas story by way of songs about angels, the star, and the manger scene, All Is Bright includes artists such as Cambridge Singers, Cantus, and Chanticleer.
December 21st @ 8pm
A Paul Winter Solstice - NPR
Sponsored by: Kneaded Energy
Celebrate the return of the sun with a performance recorded in the world's largest Gothic cathedral. Musicians include gospel singer Theresa Thomason, multi-instrumentalist and singer Arto Tunçboyacıyan and double reed wizard Paul McCandless. Hear the American Performance Premiere of the Grammy-winning suite MIHO with The Paul Winter Consort: Eugene Friesen, Paul Sullivan, Eliot Wadopian, Jamey Haddad, Tim Brumfield, and the thundering Cathedral Pipe Organ. WNYC's John Schaefer hosts. 
December 22nd @ 8pm
Christmas With The Tabernacle Choir At Temple Square - APM
Sponsored by: Moore Music
The sounds of the Tabernacle Choir at Temple Square floated into many homes during the holidays in the '60s & '70s on Goodyear and Firestone albums, bringing lush renditions of favorite Christmas carols. Those warm memories and feelings come right back again in this holiday special. The choir continues its tradition of great artistry with touching arrangements of familiar carols, and surprises with lesser-known melodies that are fast becoming the new classics. 
December 23rd @ 8pm
St. Olaf Christmas Festival - APM
Sponsored by: Pennybyrn
A service in song and word that has become one of the nation's most cherished holiday celebrations. Tickets to the event - which takes place at St. Olaf College in Northfield, MN - are always gone months in advance. The festival includes hymns, carols, choral works, as well as orchestral selections celebrating the Nativity and features more than 500 student musicians in five choirs and the St. Olaf Orchestra. 
December 24th @ 10am 
A Festival of Nine Lessons and Carols - APM  (click to learn more about the service and its rich history)
Sponsored by: Pennybryrn
Hosted by Michael Barone, this is a live service of spoken word and music (choral and organ) broadcast from the chapel of King's College in Cambridge, England. The 30-voice King's College Choir performs the legendary Festival of Nine Lessons and Carols service of Biblical readings and music. 
December 24th @ 8pm
A Chanticleer Christmas - APM
Sponsored by: Pennybyrn
A one-hour program of holiday favorites, new and old, presented live in concert by the superb 12-man ensemble known as "an orchestra of voices." 
December 25th @ 6pm
Christmas with Morehouse and Spelman Glee Clubs - NPR
Sponsored by: Moore Music
Korva Coleman hosts one of the great holiday traditions in America: the choirs of Morehouse and Spelman Colleges -- two of the most prestigious historically black institutions in the nation -- get together to present a spine-tingling concert program. This encore presentation features the best works of the last several years. It's a joyous celebration of the schools' tradition of singing excellence, with their trademark mixture of spirituals and carols. 
December 25th @ 7pm
The Martha Bassett Show
Sponsored by: The Martha Bassett Show
The Martha Bassett Show celebrates the holidays with the festive sounds of big band jazz, americana, and many of your favorite classics. Martha sings a few and shares some of her favorite performances from right here in the Piedmont of North Carolina.
December 25th @ 8pm
A Mountain Stage Holiday - NPR
Sponsored by: Eastern Music Festival
Join Mountain Stage and Larry Gross for an hour filled with beautiful music to mark the season. The show features Holly Cole, Joan Baez, Bruce Cockburn, Loudon Wainwright III, The Roches, Kathy Mattea and more. All performances were recorded live on the Mountain Stage.
December 25th @ 9pm
Occasional Shivers - PRX/WUNC
Sponsored by: Crossnore and Embrace Inc.
Set in 1960s Manhattan, this radio drama is composed by Southern-pop icon Chris Stamey.  With music, song and dialogue, the hour-long piece tells the story of two young musicians who fall in and out of love at Christmas time.  Featured performers include Mike Wiley, Branford Marsalis, Nneena Freelon, Marshall Crenshaw, Presyce Baez, WUNC's Eric Hodge, Don Dixon, Millie McGuire, Kirsten Lambert, Django Haskins, Skylar Gudasz, Marti Jones and an all-star band that includes jazz greats Scott Sawyer, Will Campbell, John Brown and Bill Frisell.
December 27th @ 8pm
A Season's Griot - PRX
Sponsored by: Crossnore and Embrace Inc.
This one-hour celebration in story and song is public radio's only nationally-syndicated Kwanzaa program. Hosted for 23 years by acclaimed storyteller Madafo Lloyd Wilson, this annual special captures the tales and traditions of African American and African peoples. 
December 28th @ 8pm
An Afro Blue Christmas - NPR
Sponsored by: The Martha Bassett Show
Join us for a very special holiday concert with Howard University's premiere vocal ensemble Afro Blue and special guest pianist Cyrus Chestnut. Hear the a-cappella group perform a variety of holiday songs including African-American spirituals, jazz and pop tunes, and classical repertoire. The joyous celebration includes one of a kind arrangements on traditional holiday songs plus new compositions…music perfect for the holidays and the spirit of Christmas. Hosted by Michele Norris. 
December 29th @ 8pm
A Soulful Christmas - APM
Sponsored by: Mother's Finest Family Farm
Julie Amacher and Tesfa Wondemagegnehu host this uplifting Christmas program. A Soulful Christmas celebrates classical music by Black artists, while exploring Spirituals, Gospel Music, Jazz, and other Black musical traditions. 
December 30th @ 8pm
Welcome Christmas - APM
Sponsored by: Pennybyrn
This perennial Christmas favorite is from VocalEssence, one of the world's premiere choral groups, led by Philip Brunelle. Join host John Birge for an hour of traditional carols and new discoveries. 
December 31st @ 9pm - Midnight
Toast Of The Nation - NPR
Sponsored by: Moore Music
An NPR tradition every New Year's Eve since the 1970s, Toast of the Nation is the perfect audio complement for the occasion. It's festive jazz you can party to, all night long, and it's sure to be a good time, even without big parties. 
January 1st @ 11am - 1pm
New Year's from Vienna - NPR
Sponsored by: Pennybyrn
The Vienna Philharmonic presents its ever-popular annual New Year's Day concert from the Golden Hall of the Musikverein in Vienna. You'll hear your favorite waltzes, polkas, and more – a festive way to start off the New Year.